I'm on my quest to try a new craft beer for every Blackhawks game. Reporting will be a six-pack at a time, and will include a new-to-me brew on game day. Have a recommendation? Please share!
How's going? In truth, I'm happier about the beer than I am the game play. Apparently it's easier to change up hops than to get four lines rolling, so on to the brew!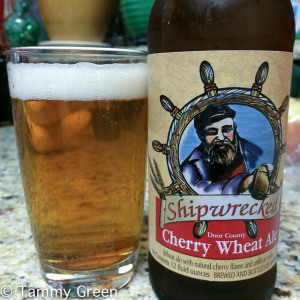 Game 7: Cherry Wheat Ale – Shipwrecked
Blues vs. Blackhawks (3-2 L)
I brought back a mix-and-match of brews from Shipwrecked in Wisconsin, but I think this is the last one I'm going to write about. Each of them hit a single note and I'm a little bored.
Although this ale had a strong fruity scent that was distinctly and definitely cherry, there was no fruit flavor at all. The ale was very astringent and slightly bitter. I enjoyed it more with food than on its own. I had a few brews after this one and nothing tasted right. I think it scrubbed my tongue in a really bad way.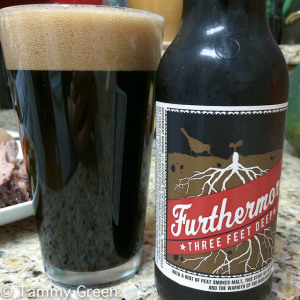 Three Feet Deep – Furthermore
Game 8: Blackhawks vs. Senators (2-1 W)
I had no idea that there were cross-overs between craft beer and Scotch. These are the two drink choices I love most, so I was thrilled out of my mind to find this peat-infused stout from Furthermore.
It would be easy for either the peat characteristics to overpower the hops and malt, or for the peat to disappear. This was a remarkably balanced brew that brought forth the best of both. The stout was dry from start to finish and the peat was present throughout. I think it will pair really well with a chilly night and a bowl of stew. I almost can't wait for that match-up.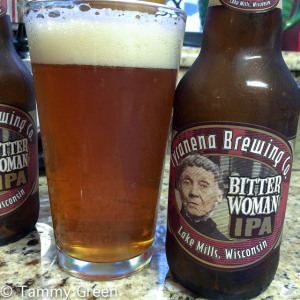 Bitter Woman IPA – Tyranena Brewing Company
Game 9: Blackhawks vs. Ducks (0-1 L)
Okay, I'll come clean. I drank this brew the night before, but I had a good reason — I was at the game! My wonderful BF scored tickets and we were close enough to hear Andrew Shaw yammering throughout. Even though we lost, there's nothing better than actually being at the UC for hockey.
I love hoppy, piney, resin-filled IPA's, but seldom find one that strikes a nice balance between hops and malt. I didn't find Bitter Woman overly bitter or astringent, despite its name. In fact, I would serve this to my non-IPA-lovin' friends and feel good about it.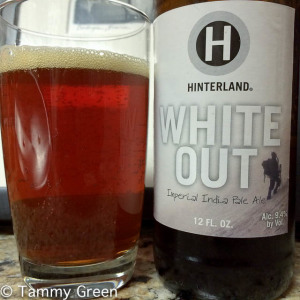 White Out – Hinterland
Game 10: Senators vs. Blackhawks (5-4 W/SO)
I'm not a huge fan of Imperial Russian Stouts, but this one has grown on me. It's a smooth drink, lighter than some I've had in this style, and certainly not as cloying and sweet.
It's a full-bodied beer, no doubt. There's a rich, malty backbone that carries bourbon and vanilla from start to finish. Throw in a dollop of chocolate and caramel and you're halfway to dessert. Hops keep the brew from being sugary, but the piney notes don't assert themselves too much. Definitely worth trying.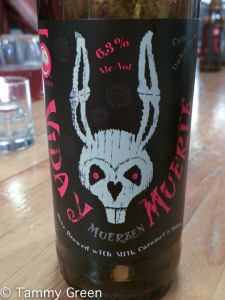 Vida y Muerte – 5 Rabbit
Game 11: Maple Leafs vs. Blackhawks (3-2 L)
I went out to dinner before the game and had this brew during a Dia de los Muertos dinner. Which was appropriate since this Oktoberfest-style is brewed with a little dulce de leche and Hoja santa leaves.
There's something medicinal about the result, but the bitterness is well-balanced by the caramel notes. Despite the fight between life and death, this is an interesting and drinkable beer. I haven't sought out anything from 5 Rabbit in a while, but they've really turned me around with this outing.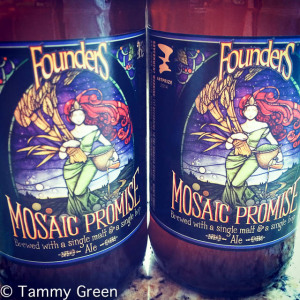 Mosaic Promise – Founder's
Game 12: Blackhawks vs. Jets (0-1 L)
I'm a huge fan of Founders, so I didn't hesitate to pick up a new label from when I spotted it. Brewed with wet, ripe mosaic hops that hit and kept coming, the resin flavors came across a little like…well, cat piss. It wasn't entirely unpleasant, but I'm not sure I could have finished it without spicy food.
As a side note, the mosaic window on the bottle actually exists and hangs in the tap room in Grand Rapids.
Round 2 Beer Rankings:
1) Three Feet Deep, Furthermore
2) Bitter Woman IPA, Tyranena Brewing Company
3) Vida y Muerte, 5 Rabbit
4) White Out, Hinterland
5) Mosaic Promise, Founder's
6) Cherry Wheat Ale, Shipwrecked
Want to follow my beer & hockey choices in real time? I keep the action live on both Instagram & Twitter. See you next puck drop!