Drink up! It's time for hockey!
During the 2013-14 hockey season, I tried 101 different craft beers — one for each game the Chicago Blackhawks played. It was such a great experience that I decided to do it again for the 2014-15 season.
The rules are simple: a new-to-me brew must be quaffed on game day, and though it must be a craft brew, it doesn't have to be from Chicago. Have a recommendation? Please share!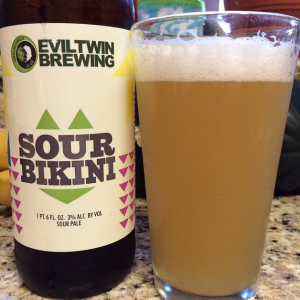 Game 1: Stars vs. Blackhawks (2-3 W/SO)
At some point over the summer, the BF and I took a roadtrip to Michigan and came back with a growler of Funk in the Trunk from Odd Side Ales. We didn't know it at the time, but it would start a quest for beer that had the same balance of sour & oaky elements that made this brew so drinkable.
I am pleased with how Sour Bikini from Evil Twin Brewing stacked up in comparison. It has a lighter bodied feel, but the combination of zesty lemon flavors and hops made me wish I'd discovered it earlier in the summer. This is a refreshing warm weather beer that almost makes me want to turn back the clock to muggy weather.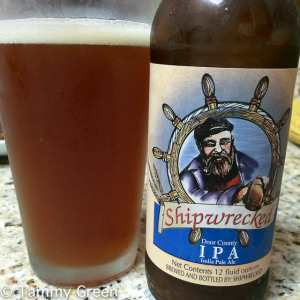 Game 2: Blackhawks vs. Sabres (6-2 W)
Our roadtrips did not end in Michigan — we also made it to Door County to view the autumn scenery and, of course, to bring back as much brew from Wisconsin as possible. I felt strongly that we should try beers made from the area, so we loaded up choices from Shipwrecked Brewing out of Egg Harbor.
Because I'm still a fiend for the style, their eponymous India Pale Ale was the first selection we tried. While there were some nice, herbal notes to the beer along with a nutty backbone, but I found the finish too bitter. Fortunately, mix and match was the name of the game when we selected samples from this micro-brew so we get to try again.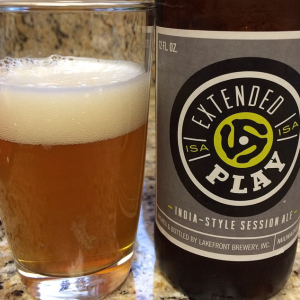 Game 3: Blackhawks vs. Flames (1-2 L/OT)
Ah, Lakefront Brewery, how I love thee. Though I've had many of the year-round brews, for some reason Extended Play escaped my notice.
I'm happy to report that oversight has been corrected. This is a great session IPA — light bodied with decent carbonation, nice citrus notes balanced by bitter hops, and clean finish. This is the beer I'd reach for if my first choice sucked. I plan to stay stocked because with approximately 100 beers to try, you never know when you'll need back-up.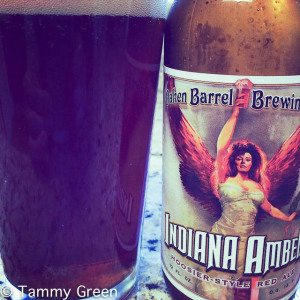 Game 4: Blackhawks vs. Predators (2-1 W/OT)
The next two brews were from business trips the BF took to Indiana. I'm okay with blind picks from the Hoosier state — there are no shortage of good breweries over the border. The first choice was Indiana Amber from Oaken Barrel Brewing Company.
Biscuit notes were present in this malty beer, though brown sugar flavors were represented throughout. There was nothing objectionable about this beer, but it didn't particularly stand-out either. Easy to drink, nicely carbonated, but not worth seeking out on its own.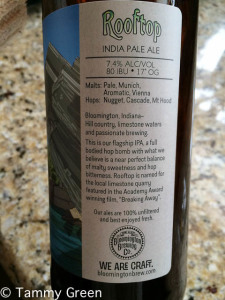 Game 5: Blackhawks vs. Flyers (4-0 W)
Rooftop IPA from Bloomington Brewing Company is apparently named for a rock quarry feature in the Bloomington area. Having gone to college in an area surrounded by rock quarries, I can't say that any would have inspired an homage in beer form.
Perhaps I should visit this one because I really, really liked this beer. A solid IPA with a hoppy kick underpinned by a nice, malty structure defines the experience succinctly. More hop-phobic friends probably wouldn't enjoy it as much, but then again, most of them wouldn't jump from a 65 foot overhang either. More for me.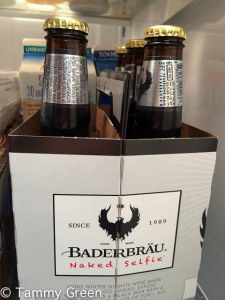 Game 6: Predators vs. Blackhawks (3-2 L)
The Baderbräu folks set me up with a six-pack of Naked Selfie to share with friends during the game.
I've tried the rest of Baderbräu's catalog, and this by far the most interesting beer they've produced. This Black India Pale Lager is carried by roasted malts and finished with light hops. There's little sweetness to the brew which finishes remarkably clean. They recommend pairing it with strong cheese, but I think it would be remarkable as a beer bread. I'm going to try that and then share my Naked Selfie loaf with the world. Be on the look-out.
Round 1 Beer Rankings
1) Extended Play, Lakefront Brewing
2) Rooftop IPA, Bloomington Brewing Company
3) Sour Bikini, Evil Twin Brewing
4) Naked Selfie, Baderbräu
5) India Pale Ale, Shipwrecked
6) Indiana Amber, Oaken Barrel Brewing Company
Want to follow my beer & hockey choices in real time? I keep the action live on both Instagram & Twitter. See you next puck drop!