The dream of a repeat Stanley Cup victory came to end Sunday night when the Blackhawks lost in overtime to the L.A. Kings. While I didn't enjoy the outcome, I did enjoy a highly entertaining series and seven additional brews.
On to the drink: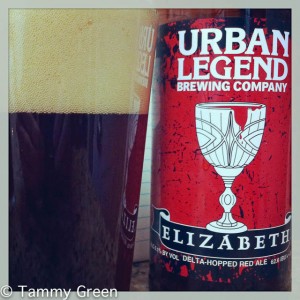 Game 1: 3-1 W
Things began well at the United Center. The Blackhawks obviously were the more rested team, and were able to grind out an ugly victory. There was some drama with a disallowed goal by Toews — namely that the refs weren't allowed to review the goalie interference once the goal was called. Though it didn't change the outcome, it was still frustrating.
I started this series with Elizabeth Red Ale from Urban Legend, in part, because of cup on the label. A superstitious choice? Yes, a little. This ale proved to be an earthy, malty brew that revealed more citrus notes as it warmed up. Though the bites of hops was present, it was far more mellow compared to an IPA. I think my hop-fearing friends would like it. I know I'll get it again.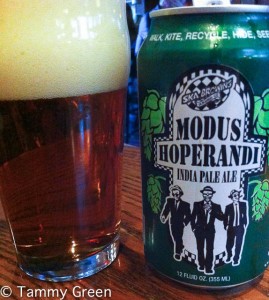 Game 2: 6-2 L
I watched the game while out-and-about, and unfortunately the bar was low on selections due to Craft Brew Week. Or so they said. That's how I wound up drinking Modus Hoperandi from Ska Brewing, my fourth attempt from the menu.
I don't know why it wasn't more popular. It's a highly drinkable IPA that rides a nice balance between bready malts and hops. The amount of carbonation was perfect. I'll definitely order it again.
The Hawks started to slide out of championship form in this game. Too many penalties were taken and capitalized on, and both Bollig and Versteeg were just god awful. I missed the presence of Shaw in front of the net and his power pest factor.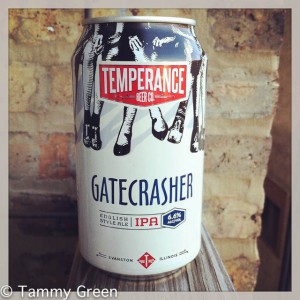 Game 3: 3-4 L
I think I let out a squeal when I spotted Gatecrasher on the shelves. Temperance Brewing has been keg-only until now, and I haven't been able to make the trek to Evanston. Whoo-hoo!
The hops in Gatecrasher don't beat you over the head, but they don't exactly assert themselves, either. I craved a little more bitterness than this English IPA offered. There's some nice apricot and citrus notes and a touch of sweetness to round out this medium-bodied beer. It would be perfect on a hot summer day.
I love how our Captain makes short-handed goals in clutch situations, don't you? That was marvelous to see. Too bad the rest of the team didn't follow his leadership. It may have gone better if human anchor Michael Handzus wasn't holding back the 2nd line from scoring opportunities.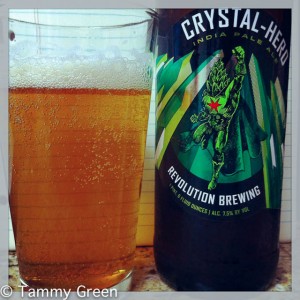 Game 4: 2-5 L
I love the hero brews from Revolution Brewing. Crystal Hero is the latest installment in this series of IPA's, and I think it's my favorite. This beer simply unloads an explosion of fresh, bitter Crystal hops on your tongue. I enjoyed the crisp, juicy citrus, slight sweetness, and amazing drink-ability. I hope they keep it in rotation for a while.
I cringed as the Kings hammered three goals past Crawford in the first period — this was not the championship hockey I expected to see. More penalties and shaky goal-tending had many of my friends on the ledge, too. To be fair, they shook it off and started to invoke last season's come-back over the Red Wings. Me? I wisely opened another bottle of Crystal Hero. Yeah.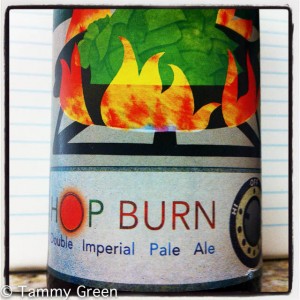 Game 5: 4-5 W
I spotted Hop Burn at Gene's Sausage Shop and picked up it because Mikkeller is known for great collaboration beers (especially the recent one he did with Half Acre). And because Gene's had a Craft Beer Week discount. Hurrah!
Wow. This double IPA is a hardcore, hoppy ale that will sandpaper your tender tongue without hesitation. The high ABV (10%) holds a balance between bready and bitter, but it's not a subtle beer. I'm still in recovery.
The Hawks got off the mat when the 2nd line of Shaw, Saad, and Kane started kicking ass and taking names. They were remarkable all night, particularly Saad. Though Handzus got the GWG (and his last bit of hockey glory), it was off the sweet pass from number 20. It was his game.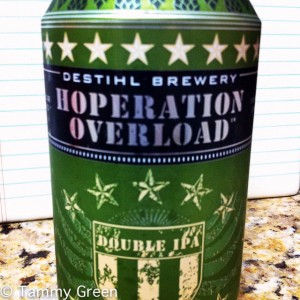 Game 6: 4-3 W
I chose Hoperation Overload from Destihl Brewery for Game 6, which makes two double IPA's in a row for me. The malts assert themselves more in this brew, taking the edge from the hops a bit. It's a full bodied beer, but I didn't quite enjoy it on its own. I have most of the six-pack left and will finish it off when I'm eating something spicy enough to stand up to it.
The mullet line continued to dominate the game, but how about Crawford? The man found his swagger, going so far as to challenge Quick, the King's goalie. Loved it. The Hawks pull out a victory to take the game back to the U.C.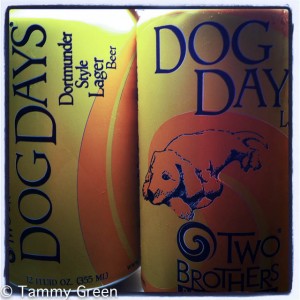 Game 7: 4-5 OT L
After two double IPA's and overtimes, I decided I couldn't handle another hopped up beer. Enter Dog Days from Two Brothers. This was a nice lager with some refreshing, lemony characteristics. While it didn't exactly excite me, it detract from the game, either. Good enough.
Game 7 was filled with pucks taking crazy bounces into nets and off goal-posts. I laughed, I cried, and I screamed at the reversals of fortune all the way into over time. If you're going to lose, then leave it all on the ice, I say. And that's what the Blackhawks did. Man, what a season. Thanks, boys!
After this match-up, my craft beer total for the 2013-2014 season was 101 different brews. I'm excited that I stuck with this project for eight months, and I'm already in training for next season's line-up.
Go Hawks!
[GARD]