Ye olde random number generator came up 7 & 11 this morning, which I thought was a very Vegas combo! Congratulations to Hannah & DP3 — check your inbox/spam filter because I sent you details about what you need to do next.
Hope to see everyone there on Sunday. Cheers!
Update: Hannah can't go. Congrats instead to Shea, lucky number 16!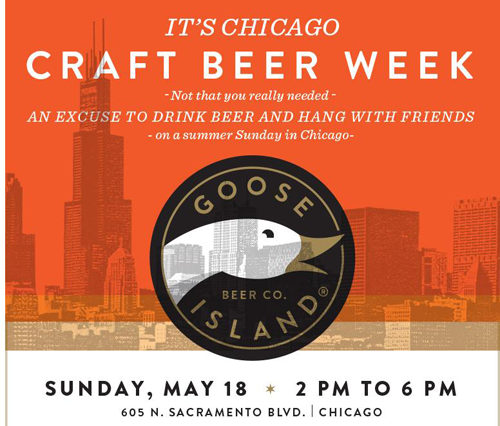 Still making plans for Chicago Craft Beer Week? Be sure to leave room on your calendar for the Goose Island Sunday Funday to help the brewery celebrate their new barrel warehouse (605 N. Sacramento Boulevard) on May 18. The fun runs between 2p.m. – 6p.m.
According to Goose Island:
"Fans will have the opportunity to get a first look at the new barrel warehouse, which will be home to some of Goose Island's most popular barrel aged beers such as Bourbon County Stout, Madame Rose, Halia, Juliet, Sofie, among others.

The afternoon will feature great Live Music, $3 beers, mini golf, food trucks, offerings from other local Chicago breweries as well as the inaugural Battle of the Breweries Dodgeball Tournament!"
Who can say no to great beer and dodgeball? Not me.
The event is free, but I'm giving away 2 Pairs of VIP passes. To enter, leave a comment and share your Craft Beer Week plan(s). I'll draw the names on Thursday and get you on the VIP list.
Cheers!
[GARD]