There's no shortage of great food in Chicago. However, I'm happy to add to the list of dining decisions to make for your Memorial Day weekend. If you need a spot to meet-up with friends, a new brew to try, or a better bite, I've got you covered: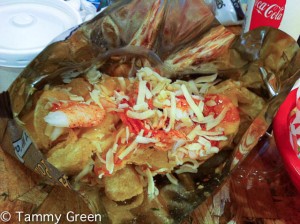 1) Da Lobsta
Da Lobsta, located in the Gold Coast and in the Chicago French Market, offers diners different versions of New England lobster rolls, salads, and seafood-filled soups.
Go for the straight-up traditional roll with mayo and garlic butter, and if you need variety, spring for the Mexican with salsa and avocado. However, I think the Lobsta Poutine is going to be a hit — especially when festival season gets into full swing and Da Lobsta serves this from their food truck. What is it? A bag of crunchy chips split open and topped with hunks of lobster. I can't think of an easier, grab-and-go seafood fix for the summer.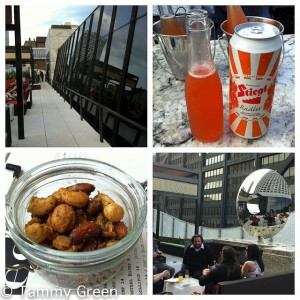 2) The Dec
The Dec, the outdoor bar/patio area of Deca in the Ritz Carlton, opened for its second season. Now that the weather has caught up with the times, put this spot on the calendar.
Not only does The Dec have a sweet view of the Hancock Building (and the tourists tilting out of it), it's also a convivial space to hang with friends — especially if you're sprawled near the mirrored fire pit. If you're in a more solitary mood, try the open-air bar with taps pointing skyward toward the Hancock.
Nibbles are in order and you can't go wrong with jars of smoked, spicy nuts or plates of ahi tuna. Or, opt for a bucket of ice cream bonbons served smoking atop dried ice for a sweet treat.
The drink menu is pretty stellar, too. The Dec had a custom brew made for them by Ale Syndicate called "Tailor Fitted" This brew falls somewhere between a hoppy pale ale and a wheat beer, with especially pronounced pilsner malts. It's worth the trip to try it. If you prefer cocktails, grab a Ritz Spritz made with Stiegl Radler and sparkling wine — I loved the punch of orange and grapefruit without any cloying sweetness.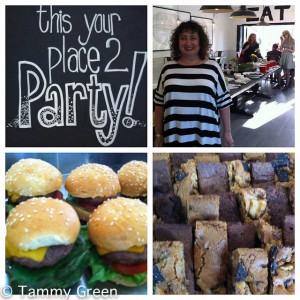 3) Goddess & Grocer
The Goddess & Grocer held a reception this week to celebrate their move to 1649 North Damen (read more about the new space here). Owner Debbie Sharpe was on hand to greet guest and show them around the new space. However, I didn't need the help to find my new, favorite Bucktown hang-out spot: the veranda overlooking Damen. With a sandwich in one hand, and a brew in the other, I'm in danger of moving in.
As I said before, if you need to look like a chef at your backyard party, pick up sandwiches, cheeses, and chocolates from the gourmet producers featured in the downstairs deli. Go the extra mile and pick up a local brew, like Revolution's Rosa Hibiscus Ale. It's a delicious new beer that will change your spring into summer almost instantly.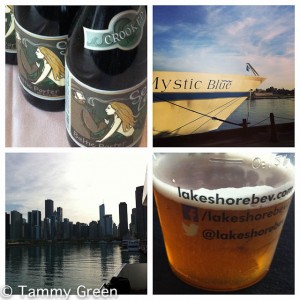 4) Craft Beer Cruise
Everyone knows that beer tastes better when you're on a boat, so I took the opportunity to sail on into Chicago Craft Beer Week with a Craft Beer Cruise sponsored by The Mystic Blue and Lakeshore Beverage.
The cruise featured 21 different breweries, including my favs, Ale Syndicate and 3 Sheeps. I was especially jazzed to try Nimble Lips Noble Tongue by 3 Sheeps, an oaked IPA with an exceptionally creamy mouth feel that didn't surrender to the sandpaper effect of hops. As an added bonus, I was able to speak to brewmaster Grant Pauly about his creation and plans for more limited edition beers in the future.
Speaking to the brewers and distributors was almost as much fun as discovering new breweries and trying the beers. Almost. If you haven't yet, add Sea Legs Baltic Porter, a surprisingly light-bodied beer with hints of chocolate and bitterness, from Unita, and Citra Ass Down, a hopped-up IPA with lots of pine and grapefruit, from Against the Grain to your must-drink list. While I tried, and did not like, Not Your Father's Root Beer from Small Town, the BF declared it an excellent marriage of root beer, hops, and dessert.
If possible, I'll do more of my future beer shopping on a boat.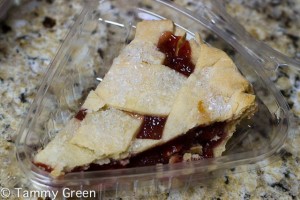 5) First Slice
There are more famed pie shops in Chicago. However, First Slice not only has great pie, they support families in need of a good meal. If that doesn't make you feel a little less guilty about the extra calories, I don't know what will.
Since the "guilt" is taken care of, indulge in a slice of Michigan Sour Cherry or their incredibly smooth French Silk. If you're feeling extra generous, buy a whole pie.
The flavors rotate daily. The delicious is forever.
Enjoy the holiday weekend!
I was not financially compensated for this post. Access to some events was provided to me as a member of the media. The opinions are completely my own, based on my experience.
[GARD]