Over the last week, I've attended an interesting mix of beer and wine events around the city. Rather than tackle them separately, I decided to swill them together into a single gulp.
To the drink!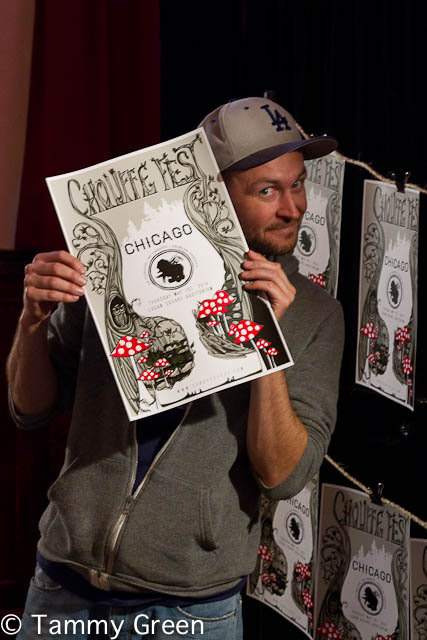 Chouffe Fest
Chouffe Fest, billed as a one night beer festival, was a cheerful mix of crafts, games, funny hats, and long lines for Chouffe beer. It was held last week in Logan Square Auditorium, located just above Lula Cafe.
I managed to snag a taste of La Chouffe, a hazy blonde ale done in the Belgian style. There's a little too much candy and cream to this beer for my tastes, though I can see its appeal. Mc Chouffe, a darker Belgian, was more to my liking. It, too, has a nice creaminess, but with more of a malt backbone that brought forth notes of baking spice. My favorite of the three was Houblon Chouffe. My tastes run more to Belgian IPAs than a straight Belgian brew, and this was a nice example of the style.
The brews were well done, and from the brief taste, I know I want to try them again.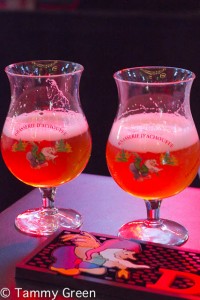 Gnomes are the mascot of the brewery. However, I found the presentation of the brand to be a bit…silly. Red hats with bells, over-sized Jenga, and a photo booth with a giant chair didn't really marry well with the quality of the beer. Nor did the overly long lines for everything, including food.
Having said that, there may be a picture of me with a red hat sitting in an over-sized chair somewhere. What? No comment.
As the auditorium filled up, the prospect of more food and drink seemed impossible. We headed downstairs to Lula Cafe where they were more than happy to serve us pickles, spicy spaghetti, and a lovely Sunday Session Ale from Ale Syndicate.
Verdict: The best drinks are the ones you can sip and enjoy. With or without a hat.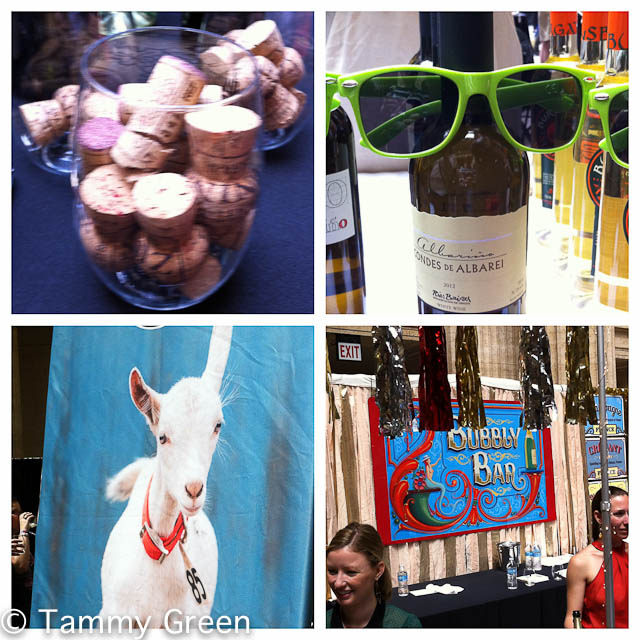 Wine Riot
Wine Riot was held on Saturday at Union Station, which is such a great venue for drinking events. It's convenient, light, airy, and has coat check, bathrooms, and seating.
I started my wine journey in the Bordeaux wine region. Before my first sip, I received a deep dive on the terrior of the region, types of grape varietals, and styles that make the area famous. The Bordeaux folks set the bar for the rest of the afternoon in terms of quality of wine and presentation.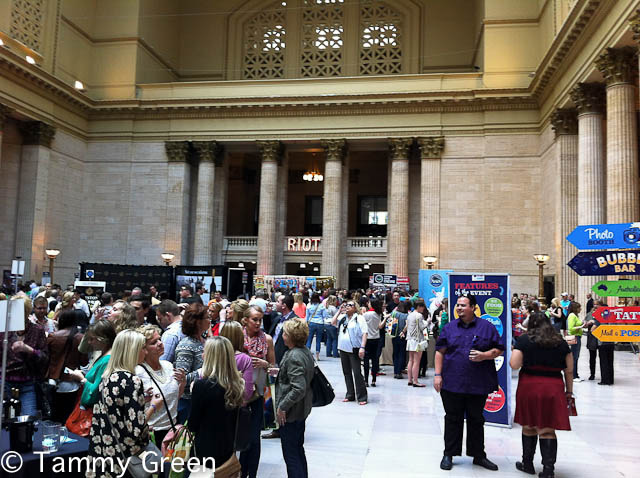 The booths that focused on wine regions tended to be educational and have a wider range of examples than the ones that represented particular brands. There was a nice "Bubbly Bar" that poured out back-to-back samples of different sparkling styles. If you needed to sit and absorb the onslaught of wine, educational sessions were also available at half-hour intervals on wine styles and regions.
As with ChouffeFest, there was a bit of silliness involved. Again, there may be a picture of me wearing a funny hat. And sporting temporary tattoos. What? I'm only human.
Verdict: If you're new to wine, this is a great way to discover what you like. More experienced oenophiles may want to go to experience a social afternoon with friends, but should otherwise seek advanced events like Chicago Gourmet. Wine Riot returns this fall to Chicago. Find ticket information here.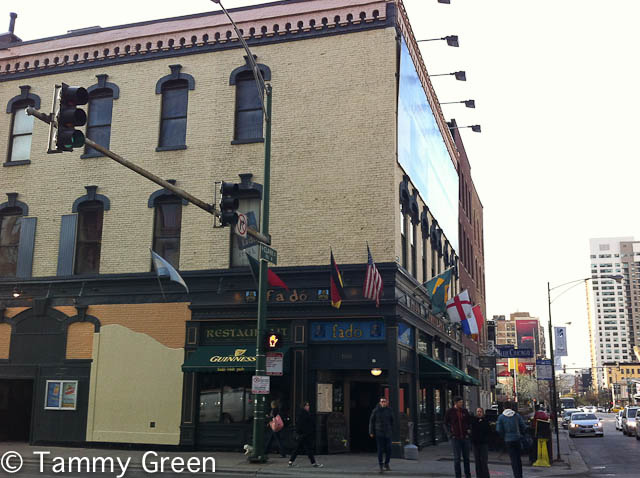 Fado Craft Beer Fest
In advance of Chicago Craft Beer Week, Fado Irish Pub held its own festival on Saturday as a benefit to support Imerman Angels.
Throughout the three levels, there were stations to sample both national and local brands of craft beer. And because it was Kentucky Derby day, Tullamore Dew samples were available, too.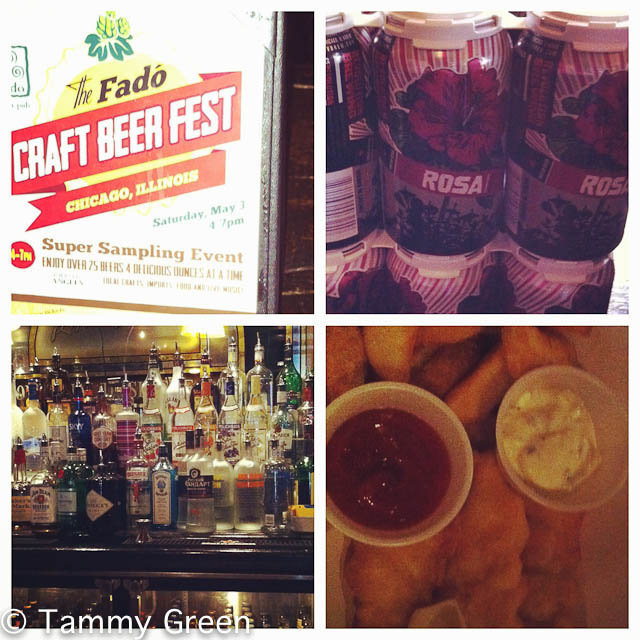 Though breweries skewed more national than local, I was able to try Revolution Brewing's Rosa Hibiscus Ale for the first time. As the name implies, the brew pours out a pinkish shade and hits your nose with strong floral notes. The hibiscus is very prominent in the flavor as well and rides a sweet, malty backbone on the way down. If you like fruity, spicy beers, this is a fun choice. I thought it was interesting, though I eventually switched over to my first love, Galaxy Hero.
Unlike Wine Riot, food was part of the admission price. Fado didn't skimp on the servings of fish and chips and chicken tenders, and we where able to call it dinner as we watched California Chrome cross the finish line.
Verdict: If your definition of craft brew includes Samuel Adams, then this was a great event. Local beer hounds without an appetite for bar food should seek hoppier locations.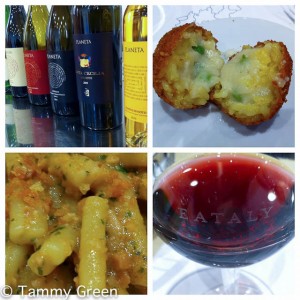 Planeta Wines at Eataly
La Scuola, a school/demonstration space at Eataly is proving to be both an upscale and educational way to experience the products they feature throughout the store. This week, they hosted an intimate gathering with Francesca Planeta, wine maker Patricia Toth, and Export director Penny Murray from Planeta Wine estates of Sicily.
Wines made with varietals indigenous to Sicily were featured along with dishes made with Planeta family recipes. Francesca, a member of the family, spoke with passion and pride about the origins of each dish, her family's efforts to preserve the Sicilian tradition of wine, and future plans for the region.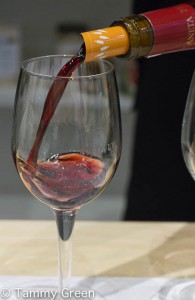 The approach at Planeta is to make small batch wines that are true to terrior and climate of the estates where they are grown. The family researches the varietals and works to stay true to the character of the wines. We tried six different wines from two estates, Dorilli in Vittoria and Buonvini in Noto.
Of the wines, I felt the highlights were the Moscato di noto DOC 2013, a floral aperitif with a dry, clean finish and no hint of sweetness. It was wonderful to experience a moscato done in this style. The Dorilli Cerasuolo di Vittoria Classico DOGC 2011, was a rich, full-bodied wine with soft tannins and fruity character, its acidity made it an excellent pairing with the tuna in tomato sauce.
Planeta distributes most of their production to the United States, and their wines are available at Eataly.
Verdict: If you want an in-depth education about your food and wine, sign up for classes and demonstrations at Eataly. Also, selecting a Planeta wine for your Sicilian dinner is never a bad choice.
I was not financially compensated for this post. Access was provided to me for review purposes and/or because I won tickets (in the case of Fado). The opinions are completely my own based on my experience.
[GARD]