I'm pairing a different craft beer with each Blackhawks game, expanding my horizons as I root my team on to a repeat of last season. Have suggestions for a local brew? Please share!
On to the drink…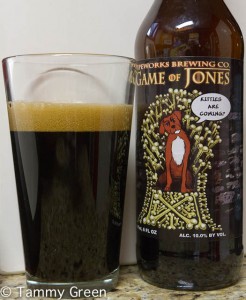 Game 69 vs. Flyers, 3-2 OT L
I can't resist a clever title. Pipeworks seems to work overtime to keep me amused, but I keep buying because their brews are truly excellent. This surprisingly smooth, sweet, and chocolate-y bottle of Game of Jones stout was worth the chuckles, and I think you'd love it if you're a fan of rich chocolate cake with a cup of coffee. Expect little carbonation, a milky consistency, and a dark, inky blackness at its core. Enjoy with caution. Don't enjoy with the Red Wedding.
The same can be said for any match-up with the Flyers. I thought we were going to be a house on fire with two goals in the first four minutes, but the team was lucky to make it into overtime. Though the Hawks in no way deserved it for their lackluster, uninspired play; they limp away with a point.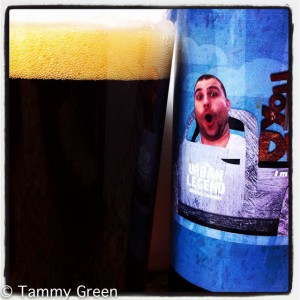 Game 70 vs. Blues, 4-0 W
I had never heard of Urban Legend before spotting it in my local liquor store. And for some reason, You Big Dummy, spoke to me. And why shouldn't this nicely bitter, red ale speak for us all? It starts with big hops and quickly fading lacing that delivers sweet, biscuit notes before a lingering bitter finish coats the tongue. I kinda loved it and will seek out other brews from these folks.
So what do the Blackhawks do after playing a rotten game? They come back with thorough whitewash of the current points-leading St. Louis Blues. Not only was this a satisfying way to celebrate the 700th career win for Quenville and the 1000th career game for Handzus, it was a psychological victory over our division rivals. I want this game to haunt their little bluesy dreams.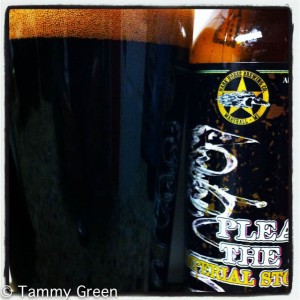 Game 71 vs. Hurricanes, 3-2 W
Not only am I a sucker for clever names, I'm also a sucker for limits. Binny's had a maximum of two bottles per customer on Dark Horse Brewery's Plead the 5th. So of course I had to have it.
This Imperial stout reminded me a lot of Game of Jones, but with more refinement and complexity. It's big and bold on the nose with lots of chocolate, plum, and roasted malt. It smells dark and promises to taste dark. The chocolate and fruitiness carries through the flavor with a smokey after-taste that burns for a long while. I'm glad I only had two bottles because I fear I'd still be drinking it.
Carolina was in town to get walloped by the Blackhawks. Most fans didn't notice because they were all abuzz with the arrival of the Finn, who didn't play. Crawford did show up, and he stood tall through five of six power plays against the team. Toews was the cause of a couple of those power plays, but he still impressed with a short-handed, game-winning goal.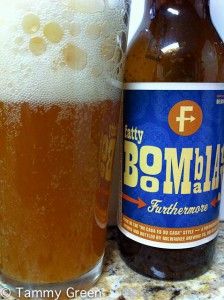 Game 72 vs. Predators, 2-0 L
Say it with me: Fatty Boombalatty! The folks at Furthermore have somehow eliminated the excess sweetness from a Belgian-style beer, while keeping the big malty banana flavors along with a dash of coriander. Expect to enjoy lots of carbonation and a crisp finish in this pale ale.
A whitewash was visited upon us because the Hawks can't seem to dominate a game without giving one back immediately. On the plus side, it was good to see Saad return to the line-up. I was still screaming at the television for someone to screen in front of the net. Would that be so hard? Can I tune my T.V. to broadcast my comments onto the ice? So many questions…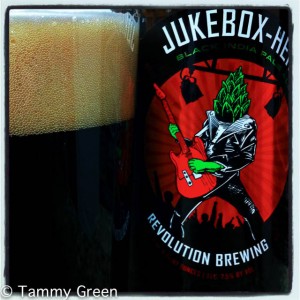 Game 73 vs. Stars, 4-2 W
Behold the Jukebox Hero, with hops in his eyes. This inky black beer has a hint of roasted barley, but what really hits the nose are the pine and grapefruit notes. The hops wallop your tongue at first, then fade to let the sweet, malty backbone of this beer shine through. I found this brew to get sweeter as it warmed up, and that I enjoyed it more. Revolution Brewing continues to impress with this black I.P.A.. I'm not sure it will be around long, so pick it up if you want the hero experience.
The Hawks secured their playoff spot tonight! Players continue to step up the awesome: Hossa put on his usual skating clinic, Sharp had two assists, and hockey monkey, Andrew Shaw, not only avoided the penalty box, he managed to score on a power play. From his knees. Also, there was the debut of Finnish phenom, Teuvo Teräväinen, who not only won all his face-offs, but also managed to give hope that we've finally found our 2nd line center. We shall see.
More beer to come!
[GARD]