After the long Olympic break, the Blackhawks are back in action and so am I. The team is making a play for a top spot in the playoffs, while I'm in the hunt for the next local brew to enjoy. Let's just say there have been some up and downs in our respective quests for the cup since Sochi.
On to the recap…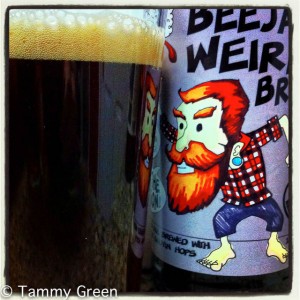 Game 61 vs. Rangers, 2-1 L
The folks at Pipeworks Brewing are a little like romance novelists — they're prolific, dramatic, and always a guilty pleasure. The biggest difference between them and a Daniel Steele novel is I want the world to know what I'm drinking. Please continue to ignore my reading material.
Drink Weirdo if you want to experience a dry brown ale with all the Nelson hops. It's an easy drinking beer with enough complexity to distract you from the Hawks D.
Speaking of which…losing to the New York Rangers after the Olympics made me wonder if team morale was a little off after three brought back gold medals, three more brought back silvers, and the rest resumed play empty-handed. Stanley Cup > The Olympics. Always.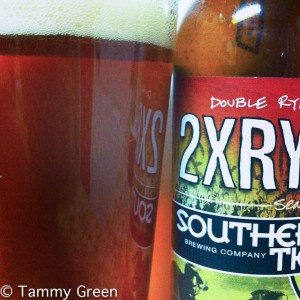 Game 62 vs. Penguins, 5-1 W
I selected 2XRYE from Southern Tier Brewery because I wanted to experience twice the rye. They named their beer correctly. The grainy, spicy aroma of rye wasn't over powered by the pine and citrus notes in the hops. Southern Tier continues to kill it.
Know what else kills it? Outdoor stadium games. The NHL should schedule games between top teams in the midst of a raging snow storm more often. The long passes were cut short, the puck left trails on the ice, and I know both goalies built snow forts in the blue paint. All this didn't stop Jonathan Toews from executing some sick puck handling and Corey Crawford from standing tall. BTW, I'm still trying to forgive Seabrook from robbing him of a shut-out.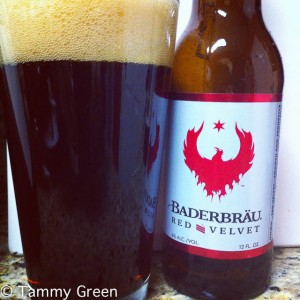 Game 63 vs. Avalanche, 4-2 L
When the folks at Baderbräu offered me the chance to try their limited edition Red Velvet bock, I couldn't say no. It's an iconic brand that's trying to make a come-back. I only wish I enjoyed this particular brew more.
While I got hints of cherry and caramel up front, I found the bitter and sweet balance of flavors to be weak and the body to too thin to drink on its own. On the plus side, this beer does pair nicely with cheesecake and fruity desserts — so whip it out at the end of the meal.
The loss to the Avs was hard to watch. How the team managed to out-possess, play, and shoot Colorado and still manage to lose is unfathomable. Varlamov must have velcro on his glove hand, that's all I can come up with.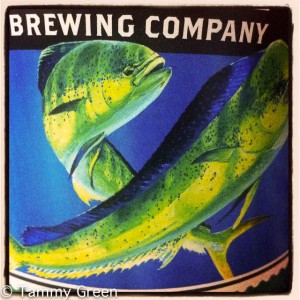 Game 64 vs. Blue Jackets, 6-1 W
This light, copper-colored Double IPA from Ballast Point packs enough wallop to keep me interested but not enough to kill my ability to enjoy the tropical citrus notes in the hops. A very well balanced beer with a medium body. Compared to its sister beer, Sculpin, I find both the mouthfeel and flavor to be weaker. However, it plays well with food and allows flavors to shine through. Definitely a better beer to pair with a cheese plate.
Did you see the Blackhawks get their shooting practice while the Blue Jackets were on the ice? That was fun.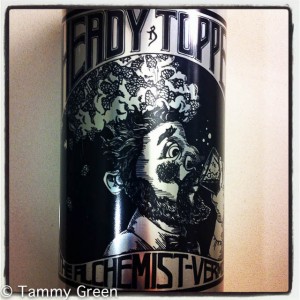 Game 65 vs. Sabres, 2-1 W
I think it's an unwritten rule that when you're in Vermont, you must have a Heady Topper. The unfortunate part of that rule is you'll need to fight the local beer fiends who suck up the surplus. I understand why. It's one of the best Double IPA's I've tried — the ultimate hop experience.
I watched this game and was very surprised the Hawks didn't beat the Sabres into submission like they did the Blue Jackets. They should have. Still, a victory is a victory, and Toews and Kane made sure the team delivered.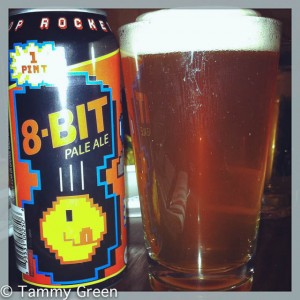 Game 66 vs. Avalanche, 3-2 L
I've seen 8-Bit Pale Ale in its Pacman-esque packaging on the shelves of Walgreens, so I was surprised to find this beer on the menu at Chicago Q. I'm glad I listened to the waiter and gave it a try.
Biscuit aromas hit the nose first, but then gave way to more citrus hop notes. The body was lightly carbonated, with an almost creamy consistency that delivered nice pineapple and lemony flavors. This is a great little beer that will be a factor as the weather warms.
I had a feeling after the Sabres game that the Hawks were coming a bit unglued. However, there is open speculation that Coach Q put in back-up goalie Raanta so a likely playoff rival wouldn't be able to fine-tune their approach to Crawford. I'm going to hold on to that thought and try to forget the rest of this game.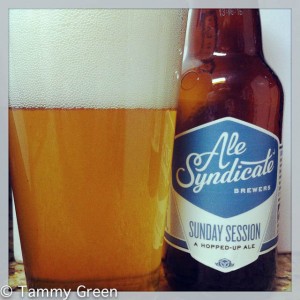 Game 67 vs. Predators, 3-2 L
Ale Syndicate had their one year anniversary this week, and to celebrate, I hoisted a bottle of Sunday Session in their honor. While this ale is "hopped up," and that comes across strongly in the aroma, there's very little bitterness when you pull a sip. This is a lovely, light beer that will definitely hold down real estate in my fridge this summer.
This had to be one of the worst games I've seen the Blackhawks play this year. Lackluster. That's the word that comes to mind. I suspect Coach Q will kick ass and take names on the way home. The game needed more Hoss!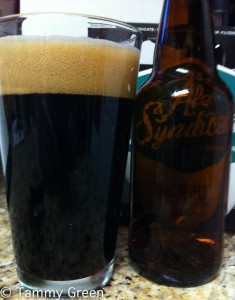 Game 68 vs. Red Wings, 4-1 W
I doubled up on Ale Syndicate for this round of beer and hockey with Omega Foreign Stout. This pitch black stout delivers a combination of fruity and chocolate flavors with a nicely dry finish. There was nothing cloying or overly sweet about this beer, which really appeals to my inner beer geek. I only had one bottle and will need more to conduct a thorough study of Omega, ahem.
While the Red Wings are no longer division rivals and are plagued by injuries, it's still nice to see the Blackhawks stomp them into the ice as though they still matter. Marian Hossa made a triumphant return to the ice, serving up a goal and two assists, and the team power play punished the Wings. Sadly, Saad went out with an upper body injury and isn't expected back for the game against Philly.
Never fear, I will find a great brew to drown my sorrows and the ups and downs of hockey fandom. Have a great craft brew to recommend? Send me suggestions — there are 14 more beers to try before the playoffs start!
[GARD]