I'm pairing a different craft beer with each Blackhawks game in the hopes of expanding my horizons as I root my team on to a repeat of last season. Have suggestions for a local brew? Please share!
On to the drink…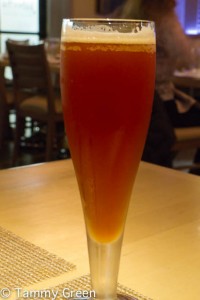 Game 57 vs. Sharks, 1-2 OT L
I spotted Morning Wood by Local Option Bier on the menu at Kabocha before the game, which gave me the perfect opportunity to ask our waiter if he liked it. Yes, I am twelve. Seriously though, I was also excited to try a beer from a new-to-me local brewery.
Not only was this red ale entertaining to talk about, it was delicious, too. The smell of roasted coffee was initially pronounced though it didn't overpower the notes of sweet malt. I could just taste the coffee floating atop this lightly carbonated beer before ending on a slight hopped note. Overall, I found Morning Wood easy to drink. I'll seek out more from Local Option.
As for the game, Crow was solid in net during regulation, but the team couldn't find the offensive firepower to put the Sharks away. Why the Hawks struggle in overtime and during shoot-outs is something that needs to be resolved sooner rather than later.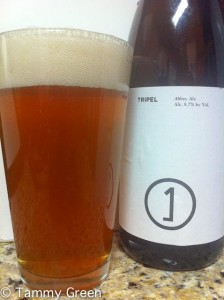 Game 58 vs. Kings, 5-3 W
Une Année produces approachable, Belgian-inspired brews in Chicago. While I don't typically pick these up because of the sweetness I find in this style, I decided I should round out my local experience with Tripel.
Belgian hops lent a familiar yeasty zest to the nose, along with fruit accents. The sweetness of the yeast played out again in flavor, which was nicely supported by a hop backbone before the smooth finish. I enjoyed every sip and I won't hesitate to pick up another bottle from this brewery.
Did you know that this match-up against the Kings marked the 6000th game in the Blackhawks franchise? And if you're at a milestone, you should kick ass. Patrick Kane certainly did with two goals and an assist, and so did Crawford with 31 saves. The only worrisome bit of the game was the excessive face-off losses by Toews.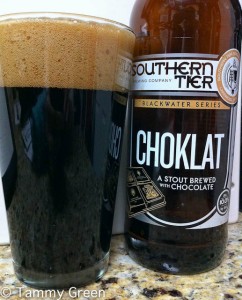 Game 59 vs. Ducks, 2-0 W
If I had to decide between a chocolate milkshake or a bottle of Choklat by Southern Tier, the beer wins. No contest. This was an amazing, creamy drink that blew away every chocolate dessert I've had in recent memory. The beer didn't get sickly sweet as it warmed up, nor did it impart an icky hershey after-taste. As soon as I find another bottle, I'm picking it up.
A big shutout win for Crawford! I don't mind staying up wicked late if it's to see Hossa be his amazing self and the team rocking the hell out of the penalty kill (including an extended 5 on 3). The Hawks have been amazing lately against teams that will be competition in the playoffs.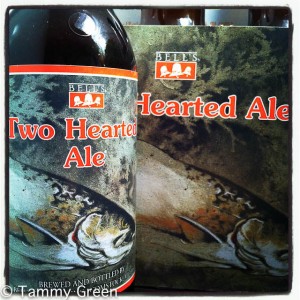 Game 60 vs. Coyotes, 0-2 L
I didn't need to search hard for a six-pack of Two Hearted Ale by Bell's, which was part of the appeal during this latest spurt of bad weather. This IPA has been around forever for a reason — it's an easy-drinking, fruity brew with a pleasant amount of hop. I'm happy I can depend upon to be in the case.
Bell's is more dependable than the Blackhawks, who got shutout for the first time in almost two years. This game was riddled with bad penalties and none of the offensive marksmanship we've come to expect. All I can say is, what the hell? Obviously the eyes were on the prize…in Sochi. Someone had better bring back a gold medal to make up for this game.
I hate to go out on that note until March, so I'll try to pick out a few brews for the medal rounds. Fingers crossed that NBC shows all the games. Best of luck to all the Blackhawks playing in the Olympics!
[GARD]