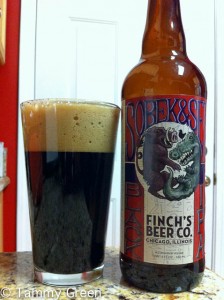 Game 35 vs. Maple Leafs, 7-3 L
On a whim, I decided to try Subek & Set by Finch's Beer Co. I hadn't planned on anything by Finch because, to be perfectly honest, I haven't been happy with what they've produced. However, when I saw this Black IPA on the shelf, I got excited. I enjoy hoppy beers with character. Why not try it?
Finch, oh Finch, though we are neighbors we will never be friends. This was nasty. It poured out inky black with a nice, thick head, but the roasted chocolate scents and bitter, treacly flavor just put me off. I couldn't finish a glass.
The game wasn't any better. Though I yelled at the defense not to leave two AHL goalies on their own like that, I guess they didn't hear me via the CSN back channel. This game was an example of how bad things lead to second-rate teams winning two points. Despite the outcome, I was very happy that Simpson got his NHL debut in net. That had to be exciting.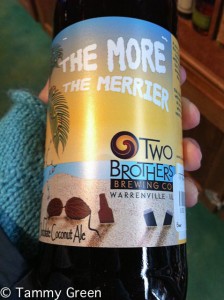 Game 36 vs. Kings, 3-1 W
The thing that I appreciated most about The More The Merrier by Two Brothers, was how it doesn't try to infuse mint, pine, or other traditional "holiday" flavors into a beer. This chocolate, coconut ale is meant to take your mouth to place filled with sand, surf, and sunshine. Too bad it was a little too subtle to pull of the trip. The mouthfeel is a bit thin, the flavors and scent aren't too strong. Enjoy it for its differences.
Did you know that the Kings had not allowed a goal in the first period in over 18 games? We were reminded over and over until the Blackhawks came up with three answers for that. I particularly liked how Toews set up of Hossa for a short-handed goal. Boom, win, done.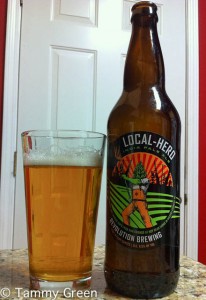 Game 37 vs. Coyotes, 3-1 W
I picked up a bottle of Local Hero IPA by Revolution Brewing after reading a review on the Chicagoist. For the most part I agree with the review. This IPA has abundant, piney herbal notes, an excellent mouthfeel, and balance of hops. In order to get that balance, it swung too far to the sweet end of the flavor spectrum for me to declare victory. A good IPA to try if you like to temper your hop enthusiasm.
Sweet victory, on the other hand, I will take. The power play unit was in full force with goals from both Patrick Kane and Nick Leddy. Coach Q became the 4th winningest coach of all time in the NHL after the win. I did the happy Linus dance on his behalf, happy human that I am.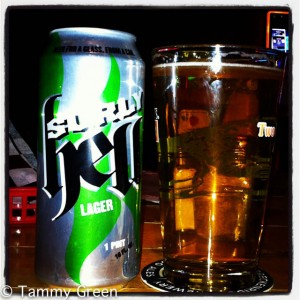 Game 38 vs. Cannucks, 3-2 OT L
Since Surly Brewing has started distributing in Chicago, I've made an effort to sample their wares. Hell Lager is a light, light, light beer that pours out a hazy yellow and froths but a little. Bready aromas greet your nose, and a slight lemony zest rounds out the flavors. It is the anthesis of what I normally look for in a beer, to be honest. If I picked this up instead of glass of fizzy water with a lemon wedge on a hot day, I might not know the difference. YMMV.
I think we can all agree that one of the great joys in life is making the Sedin twins suffer. My team let me down by losing this game in overtime, depriving us all of this basic pleasure. Why did they stop playing after the first period? Why?
It was a night to question both beer and hockey choices.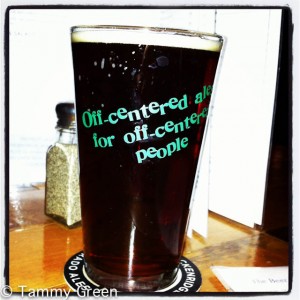 Game 39 vs. Devils, 5-2 W
Southern Tier's 2XMAS was probably the best seasonal beer that I've tried so far (the other being Southern Tier's Pumking.) This poured out a rich, amber color with the spicy scents of cinnamon, ginger, and a bit of clove. It works in this beer. The spices are carried with a bit of sweetness and great mouthfeel. I finished it while it was still cold, though I think it would've become too cloying if I'd taken my time.
With two pretty goals by Patrick Sharp before the three-day NHL break, I may have everything I need for Christmas. Except more hockey.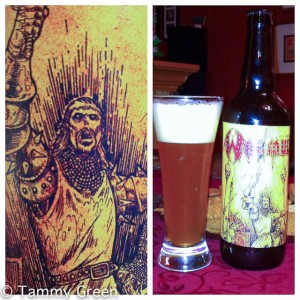 Game 40 vs. Avalanche, 7-2 W
I am prepared to drive back to Munster in the January snow for more of 3 Floyds War Mullet. This double IPA pours out a hazy golden color and hits you with big, aromatic hops. It's bitter up front, almost at the bleeding edge of too bitter, and then finishes out with nice resin and citrus flavors. No prisoners taken, no quarter given. Not for the feint of heart.
So this game! A hat trick on his birthday? An awesome lift on a break-away that leads to a goal by Toews? A shout-out to his parents after deflecting any mentions of his personal glory? Patrick Sharp is the complete package. I'm going to watch this game three times.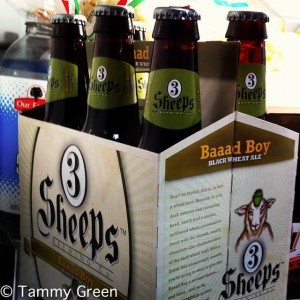 Game 41 vs. Blues, 6-5 OT L
Why did the Hawks lose this game? There's no reason why a 5-3 lead in the 3rd should ever get blown. Tsk, tsk. The team needs to do better against the Central Division (their only competition), and in shoot-outs (especially Kane who has yet to make one this year).
The better bet was the six-pack of Baaad Boy from 3 Sheeps. I first tried this during the Bacon Sports Beer event in November, and was pleased to find they're distributed in Chicago. It's a black wheat beer, which I don't normally go for, but this is a nice, drinkable brew. Pours out jet black. The aroma is a blend of banana, chocolate and a hint of coffee that are present in the flavor as well. Lightly carbonated, great mouthfeel. Overall a pleasant beer and a fine exception to my pursuit of IPA's.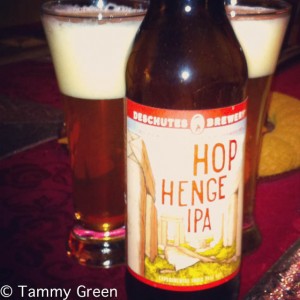 Game 42 vs. Kings, 1-0 W
Despite only one goal, this was an exciting game filled with great defensive plays, back-checking, and turn-overs. Kane had his 14 game streak interrupted, but Antti Raanta got the Blackhawks first shut-out this season. Was he a little too happy about it? Naaaah. I hope Q can find a way to continue playing him after Crawford returns.
I end off the year with Hop Henge from Deschutes Brewery. Previous beers in no way prepared me for the hop-tastic-ness of this Imperial IPA. It poured out pleasantly enough with a coppery tint and light citrus aromas. And then I tasted it. The bitterness hit me front, center and sideways and did not let up. I couldn't tell if there was any other character to the beer, the hops were so prevalent. After I attacked a nearby cheese plate to tone things down, my enjoyment level went up. I'm not sure I could handle this beer by itself.
I'm going to try to get back to local beers over the next few games, but the snow may force me to drink through my reserves. Have a suggestion for the next game? Let me know!