Just a reminder, I'm pairing a different craft beer with each Blackhawks game in the hopes of expanding my horizons as I root my team on to a repeat of last season. Have suggestions for a local brew? Please share!
On to the drink…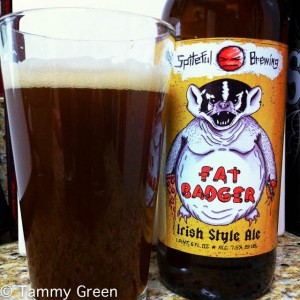 Game 52 vs. Redwings, 5-4 OT L
Lately, it's been more fun to sit at home on the couch, drink a beer, and watch the Blackhawks lose than it has to venture outdoors in search of culinary adventures. Though I hope to eat out again one Spring-y day, Spiteful Brewing makes me feel okay about the current state of affairs. Their Fat Badger Ale is one reason why.
This is a hoppier beer than I expected, but you know I don't mind that! It pours out a muddy brown with a sweet, nutty aroma. There's some sweetness up front though it's well-balanced by the structure of hops. I have no complaints about the beer. The game? Well…
The boys threw away an early two-point lead in the first period, forced overtime, but couldn't get the extra point in the shoot-out. This again? OT & shoot-out woes seem to be a reoccurring theme for January, and not one I much like.
Game 53 vs. Wild, 1-2 L
I picked up Lake Effect Brewing's Snow because I though I could fight the dark, cold winter with a lovely, lemony Witbier. Boy was I wrong. This was almost undrinkable to me — very sour, overpoweringly so, with a lackluster finish. It reminded me of both an unhappy hard lemonade and an unhappy winter.
Speaking of lackluster…I want to know who was playing this game against the Wild because the Blackhawks did not show up. The team simply didn't look interested in beating a division rival. I'm still shaking my head.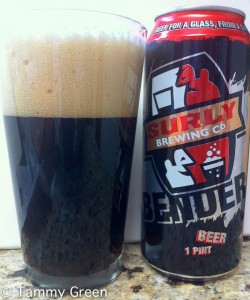 Game 54 vs. Jets, 3-1 L
Surly Brewing describes Bender as an easy-drinking ale with many layers of satisfaction, and I completely agree. This brew pours out a rich, bark color and hits the nose with a mix of chocolate, toasted malt, and I know not what. It's really creamy, smooth and with just enough carbonation to deliver those toasted malt flavors across the tongue. I wouldn't mind picking up a six-pack.
However, what I do mind is losing. To the Jets. The team had a lead, and simply choked it away in the third to a Winnipeg team that decided the first 40 minutes didn't matter. Ugh.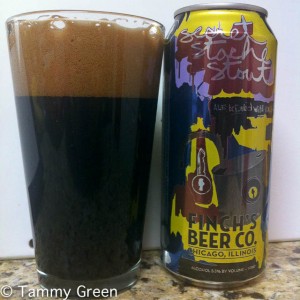 Game 55 vs. Flames, 4-5 OT L
I know I said that Finch Beer and I were not meant to be, but I figured I was already down so why not pile a Secret Stache Stout onto the chilly mess that is January? Turns out it wasn't half bad.
This stout came out a lovely chocolate hue with an equally chocolatey froth that lingered a while. I couldn't quite place all the aromas though I mostly got chocolate and coffee notes. The flavor was also chocolatey, though there was a acidic note at the back that almost, but not quite, completely ruined it for me. I've had better stouts.
I've also seen better outcomes. This was the 18th overtime game that the Blackhawks have faced, and none of them have been favorable for the team. I continue to watch, faithfully, though the late start times for the West Coast trip make it hard.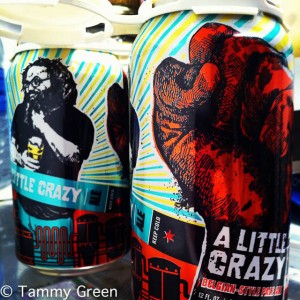 Game 56 vs. Canucks, 5-2 W
People, it's time to get A Little Crazy from Revolution Brewing. The mix of three hops hits you up front with a rich melange of pine, grass, and tropical notes. I could sniff this stuff all day if it weren't so delicious. No joke. Hops hit your tongue upfront and then the tropics extend into the flavors of this juicy ale to give it balance. This may be my favorite this month. Good thing I stuck it out to the end.
Usually, the best part about beating the Canucks is to see the sadness of loss mirrored in the Sedin twins eyes. However, I would have preferred to see John Tortorella lose his cookies over the four goals the Hawks scored in under seven minutes. Ah well, maybe next season…because we sure as heck won't be seeing the Canucks in the playoffs.
Four more games until the Olympic break. I don't know about you, but I plan to stock up before the next wave of the never-ending Polar Vortex. Send me your beer recs!