Hey hop fans! I'm pairing a different craft beer with each Blackhawks game in the hopes of expanding my horizons as I root my team on to a repeat of last season. Have suggestions for a local brew? Please share!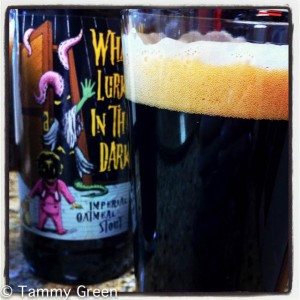 Game 43 vs. Islanders, 2-3 OT L
Pipeworks Brewing puts out a prolific number of beers with notable names and eye-catching artwork. I can't keep up, so I pick among them based on what amuses me most at the time. That's how I ended up with What Lurks in the Dark.
This oatmeal stout pours out dark and spooky, as advertised, with a thick foamy head. I can detect cocoa and fruit flavors masking the 10.5% ABV, but the light carbonation and thin consistency didn't add much. Expect an enjoyable, if unremarkable, glass or two and then move on to the next thrill.
While it was thrilling to see Crawford back was back in net after missing ten or so games, the team couldn't get a win to welcome his return. The boys lost a heart-breaker in overtime. Drown our sorrows…
Game 44 vs. Devils, 5-3 W
I expected a big, bold, and hoppy flavors when I picked up Six Row Brewing Company's Double IPA. I was not let down. This beer pours out a lovely golden color with an aroma of grapefruit, some pine and grass notes. The hops are present upfront, though it delivers hoppiness from beginning to end. However, there's a slight honey sweetness present that balances out the flavor nicely. I'm impressed and will seek out more from Six Row.
Know what's better than a Patrick Sharp hat trick? Seeing two of them inside of a week. How he scored that final goal with that tiny high-side window at that acute angle will remain one of the wonders of the hockey world. I had to rewind several times to even see how it went in. Amazing.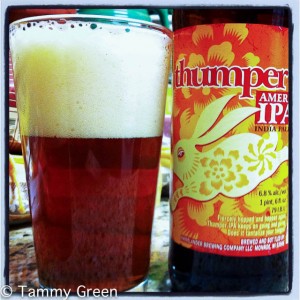 Game 45 vs. Sharks, 2-3 OT L
I spotted Thumper American IPA for $2 at a neighborhood store, and I guess that should have been a clue. It poured out a nice, caramel color, but had none of the distinctive citrus hops of an IPA. The dryness and bite present in IPA's was really missing, too. I don't expect every IPA to meet my high hop expectations, though I expect them to at least try. They didn't. Meh is a good word for this beer. Skip it.
Speaking of skipping, speed was missing in this match-up against the Sharks. The team simply couldn't dictate the pace of play. It was a close checking game and a much tighter contest than necessary. Overtime has not been good to the Blackhawks this year and that trend continued in this loss.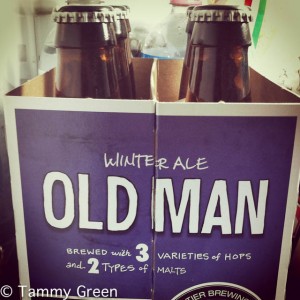 Game 46 vs. Rangers, 3-2 L
Since I really enjoyed Pumpking from Southern Tier, I was excited to give Old Man Winter Ale a go. A nice spicy aroma warms a bitter bite of hops. As this brew warms up, I could detect a sweet caramel backbone. Overall this seemed more of an IPA than an ale. I still enjoyed it a great deal.
There was nothing sweet about this original six match-up, especially the regulation loss. I was happy with the fourth line output, and the fact that Q finally realized Handzus was a drag on Kane's productivity. Wonder why it took him all season to see it. Still, meh, a loss…moving on.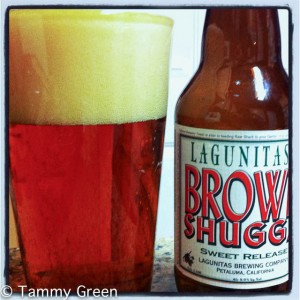 Game 47 vs. Canadiens, 1-2 OT L
I am a fan of Lagunitas, but this was my first time trying Brown Shugga. What a great little beer. Though it has a sweeter malty flavor, this brew doesn't become cloying as it warms. I really appreciate how smooth it went down. I only wish I had two to make the game better.
On behalf of Crawford, I am disgusted with the outcome of this game. Our goalie stood on his head all night — the save and rebound he denied the Canadiens without a stick? The 38 saves he made? He deserved so much better than to lose in overtime. Ugh. The rest of the team needs to stop the fancy passing and shoot the puck at the net!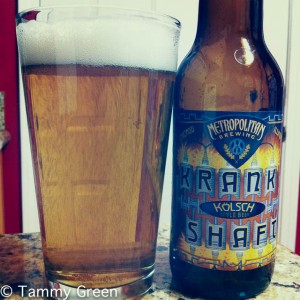 Game 48 vs. Oilers, 5-3 W
This game was not the first time I'd tried Krankshaft, Kölsch style beer, from Metropolitan Brewing. I'd always found it a bit harsh and overly bitter. I'm not sure if it changed or my appreciation for the style has shifted, but for some reason this frothy golden beer went down really well. I found it to be nicely carbonated with a slight grassy/lemony flavor and sweetness to balance out the hops. It would taste great in Summer…with a Stanley Cup in view.
The Blackhawks closed out their season series against the Oilers with another 5 point win and a very happy 35th birthday for Marian Hossa. Despite the score, it was a quite, pensive game. Especially after Kane's accidental goal against his team on the power play. Winning shouldn't be so hard.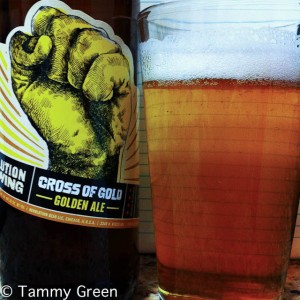 Game 49 vs. Avalanche, 2-3 OT L
I was a little surprised to find Revolution Brewing's Cross of Gold at my neighborhood 7-11. Go figure. This refreshing golden wheat beer was the "gateway beer" I used to move the BF into the craft beer scene, and I still love the combination of light carbonation and citrus flavors. Order this over 312 whenever possible.
I especially enjoyed watching our second line this game. I'm not entirely sure Shaw will be the permanent Center for Kane & Saad, but they seemed to work well. However, special teams sucked tonight and too few of our 48 shots on goal hit the net. Loss sucks.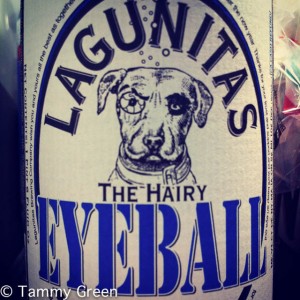 Game 50 vs. Ducks, 4-2 W
So I was back to Lagunitas for The Hairy Eyeball because…well c'mon, the team stopped scoring 5 goals a game every night. Plus, I picked this up on the cheap. Poured out with some nice lacing and a fruity mix of aromas. Turned out to be a smooth malty brew with some nice hops, very drinkable.
While the short-handed goal and empty-netter from Hossa were fun, I'm giving a special shout-out to Versteeg for that goofball greasy goal he scored while surrounded by four white jerseys. If the Hawks come out and play a dominant hockey for 60 minutes, we'll be in good shape for the post-season. 60 minutes, guys, not 54.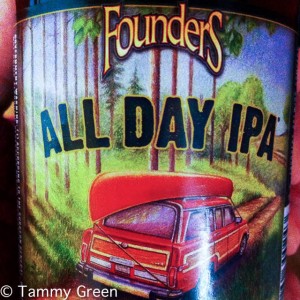 Game 51 vs. Bruins, 3-2 W
The game started at 11:30, so it made sense to whip out a six pack of Founder's All Day IPA. Clearly, this is a beer that's meant to be enjoyed through three periods of hockey, OT and the shoot-out. Founders packed everything IPA into this beer and then turned the dial down to 75% so we could spend quality time together. I loved every swig.
How fun was this game? Even though the stakes weren't there (yet), both sides played like this was the playoffs. It was fun taking getting to the skills segment, and to see Kane break his scoreless streak on the shoot-out.
BTW, who else is rooting for Team Canada in the Olympics? With three Hawks on the team, they made it hard to root for anyone else. Perhaps I'll seek out some Molson before the February break.