I'm pairing a different craft beer with each Blackhawks game in the hopes of expanding my horizons as I root my team on to a repeat of last season. I call it my "quest for a cup". I'll post recaps here depending on how the games are spaced, but I'll also keep the list up-to-date on Pinterest, if you pin. Have suggestions? Please share!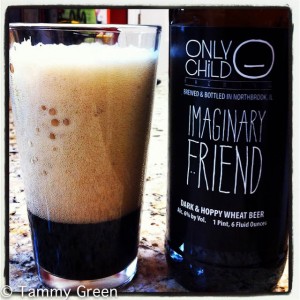 Game 29 vs. Stars, 4-3 L
The middle frame of the season starts and what happens? Our six game winning streak gets snapped harshly by the Dallas Stars in a 4-3 loss. It was as though the team were still recovering from an extended vacation, mentally catching up on email and paying bills, instead of being present at the U.C. I suppose it had to happen, but it would have felt better if one more of our 50 shots on goal had made it in.
Fortunately, I had a bottle of Only Child Brewing's Imaginary Friend to see me through the game. Through the thick, frothy head, you can see it pours out dark and gloomy. Don't let it throw you. This wheat beer starts out overly hopped and eventually finishes in a cheerful nuttiness. Very smooth throughout and lightly carbonated. I quite enjoyed it and will be seeking out more from this crew.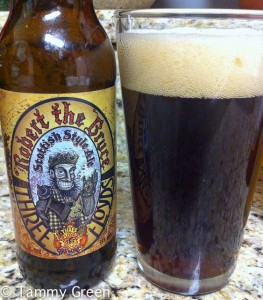 Game 30 vs. Wild, 4-3 L
It's no secret that I'm a fan of 3 Floyd's Brewery. I popped into their brewpub recently to see what was new, but also to snag some of my old favorite, Robert the Bruce. The aroma is a complex mix of chocolate and fruit that is mirrored through the slightly bitter taste. After my recent run of hop-forward beers, I find that it's no longer my preferred style of brew. The B.F. gave it two thumbs up, though.
As much as I hated seeing the team lose against the Stars, I hated seeing them lose again the Wild even more. The Hawks put up only 19 puny shots on goal against this team — hardly the offensive output that we've come to expect.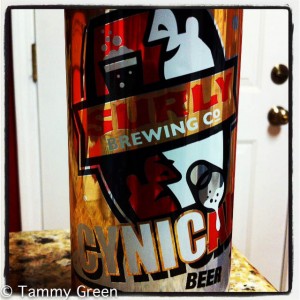 Game 31 vs. Ducks, 3-2 OT L
I started the evening with a pour of CynicAle from Surly Brewing. This Saison-style brew poured out light and frothy, with yeasty, citrus notes. Fruity flavors ride along a nice carbonation which end with a bit of white pepper. Very drinkable. I would pick it up again and pair it with a spicy Thai dish.
On the unseasoned end of the spectrum, Anti Ranta took the net against a rock-solid Anaheim team. He has to get his practice in somewhere, but it would have helped if the boys could've added more offensive power to tally. Seriously, how long has it been since the Captain has scored or added a point? I can't remember.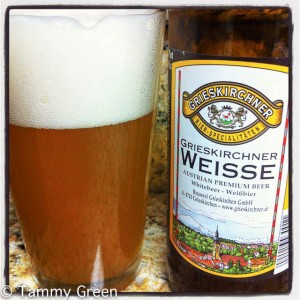 Game 32 vs. Panthers, 6-2 W
I picked up a couple of non-descript bottles of Grieskirchner Weisse from Gene's Sausage Shop for $2 a piece. So worth it! I recommend this lightly carbonated, lemony gem for a hot day…or a cold night filled with hockey. It held its own against a rambunctious cheese plate. Unexpected and delightful. Done in a Hefeweizen style, this cloudy brew has purportedly been pleasing Austrians for centuries. Now it pleases me. Go Weisse!
Finally! The Hawks had six different goal scorers, and the "Red Wedding" line of Toews, Hossa & Sharp scored and assisted their little hearts out. It was good to see. Even better, the penalty kill was perfect and the power play scored three times. The former Blackhawks on the Panthers team were the only ones that concerned me at all. Speaking of which, Jimmy Hayes nearly took out our back-up goalie Raanta after Crawford went out in the first. We won. But did we, really? I'm concerned.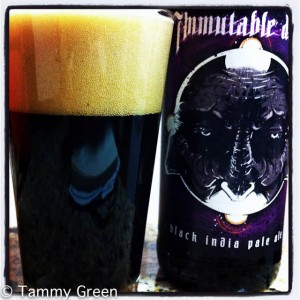 Game 33 vs. Stars, 6-2 W
And that concerned was put to rest. Raanta did fine in net, though it didn't hurt that the team put up six points, including two apiece from pretty-boy Saad and the even prettier Sharp. I could watch this game on constant repeat. The only thing that spoiled it were two opposing goals from that douche-nozzle, Roussel.
Sorry for the recap repeat of 3 Floyds, but I couldn't wait to try Immutable Dusk, an American Black Ale. If you like malt, then this is your brew from start to finish. Raisin-y sweetness added to the flavor, while a mineral quality and slight carbonation balanced out the mouth feel. It was a very fine drink.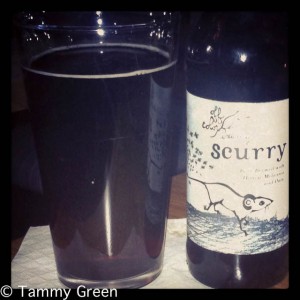 Game 34 vs. Flyers, 7-2 W
I finally had a chance to try Scurry from Off Color Brewing, a very drinkable ale with a light, sweet aroma. Though there were touches of sweet flavors, it's really a balance of light fruit and mellow biscuit. They claim honey & oats are the secret ingredients. I don't know about that, but I do know it ruled dinner. I want more.
NBC touted a rivalry between us and Philadelphia because of the 2010 SCF. I suppose to lend credence to the that, the Hawks spotted the first 20 minutes of the game to the Flyers to make it sporting. Then they started scoring in the second period and didn't stop. Again, I want more.
Have a great local brew to recommend for the next game? We still have 2/3 of the season to go!