Update: Congrats to Lisa S. & Michael S. for the win! Hope you guys enjoy the event!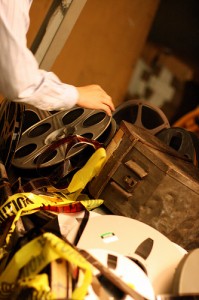 If you're a fan of dinner and a movie, why not take things to a whole new level and enjoy a gourmet meal while watching movies about your dinner? The Chicago Food Film Festival, which runs between November 20-23, offers several combinations of film and food for the discerning film buff/foodie. It's a great way to combine all your loves in one night!
I'm especially excited about the Farm and Table line-up on November 23, which features six films accompanied by a Lowcountry Shrimp Boil with all the fixins', treats from Hoosier Mama Pie, and a selection of beer and wine.
Would you like two tickets to the Farm and Table evening? Simply leave a comment on the site with a valid email address, and if you're feeling it, share your favorite pre-movie restaurant. Double your chances and send a tweet to @ChicagoBites with the hashtag #FoodFilmFest. You must be 21 to enter.
I'll do a random drawing of entries made by 5pm Sunday and post the results here and on Twitter. Good luck!