This hockey season I'm pairing a different craft beer with each Blackhawks game in the hopes of expanding my horizons as I root my team on to a repeat of last season…I call it my "quest for a cup". I'll post a quick recap of the each brew in quasi-weekly round-ups, depending on how the games are spaced. I'll also keep the list up-to-date on Pinterest, if you're a pinner.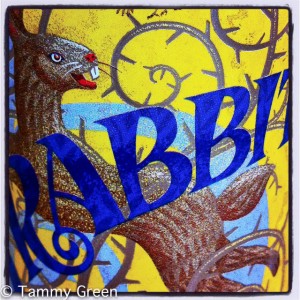 Game 16 vs. Jets, 4-1W
This shift begins with Golden Ale, a Blonde Ale from Chicago's 5 Rabbit Brewery. A serviceable ale with some honey and pine notes, some carbonation. It's not particularly memorable until you see it in place of 312 on a beer menu, then you order it.
What can you say about this game except the Hawks have found a new punching bag in the form of the Winnepeg Jets? The top line were animals on the ice, contributing half the shots and all but one of the goals. There was an uncool moment when Pardy's hat was stolen and a fan poured beer on him after Bollig checked him into the safety glass — guys, don't waste beer if you're paying United Center prices. I felt we redeemed ourselves with the video tribute to Frolik* along with the victory.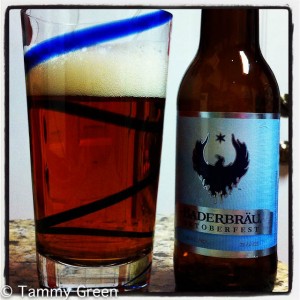 Game 17 vs. Stars, 5-2W
I picked up an extra bottle or two of Baderbrau Oktoberfest** during a tasting, and hoped that this reemerging Chicago classic would pair well with a spicy chili and the red hot Blackhawks. It did indeed. I'm not sure how it compares with the Baderbrau of years past, but Oktoberfest hits a single, hoppy note and holds it through the bottle. Refreshing.
It was a pleasure to watch the top line produce in this contest, especially Sharpie's four assists. However, if the team feels the need to draw six penalties each game, they're going to drive me to drink…oh wait…pour me another.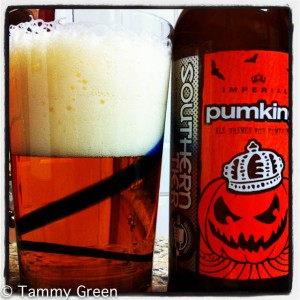 Game 18 vs. Oilers, 5-4W
I picked up Southern Tier's Pumking in an effort to find a pumpkin beer worth its reference to the great gourd. I was very happy with this brew, especially the combination of spice and buttery caramel aromas. It went down smooth, with nice pumpkin flavor that wasn't too sweet or overly spicy. I'd seek it out again.
This game seemed much harder than it needed to be, didn't it? Towards the end, Rozsival took a puck to the mouth while sitting on the bench minding his own business. Painful to watch. All the way through.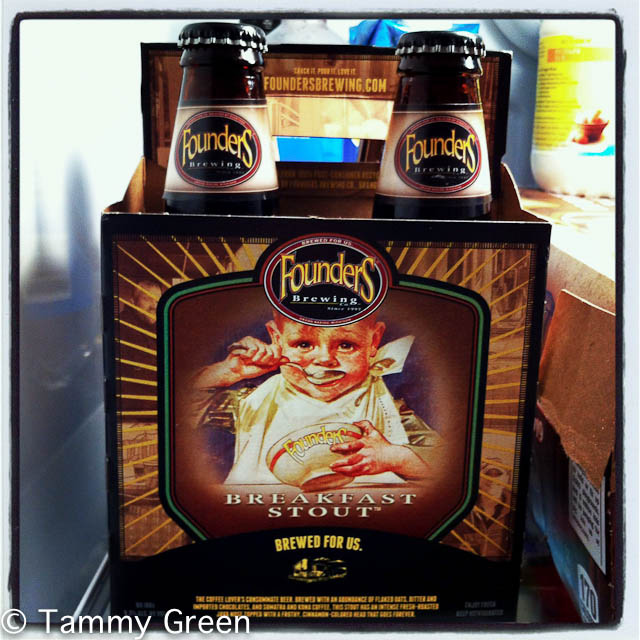 Game 19 vs. Coyotes, 5-4W
I picked Founders Breakfast Stout for the home game against the Coyotes. However, when a friend came through with tickets to the game, I put the four-pack back in the fridge and rushed off to the United Center! I enjoyed our shoot-out win over the 'Yotes, in my squealing fan girl way, though I waited til I got home to quaff a brew 'cause the UC doesn't have much…well, Goose Island Green Line, but still.
Turns out, I'm also a fan girl of Breakfast Stout (sans squealing). This beer begins with strong espresso and chocolate notes, and pours out as black as a 5am mugful. A hearty stout that starts slightly sweet but is quickly balanced by roasted coffee flavors. I loved this beer and can't wait to seek out more from Founders Brewery.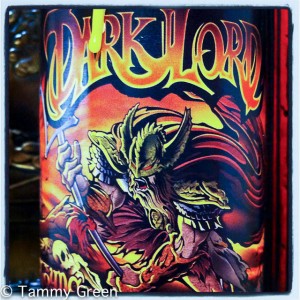 Game 20 vs. Predators, 7-2L
I've held back a few bottles of 2011 Dark Lord from 3 Floyds to quaff on a special occasion. Wait can I say? I got tired of waiting. When I first tried this in 2011, it reminded me of fruitcake in beer form. This Imperial Stout pours out inky black, with a fruit, chocolate, and coffee assault on your nose and palette. It's a cloying, sweet monster — these days I find I prefer a more subtle approach. If you'd like to trade something for a 2010 or 2011 bottle, let me know.
This game against the Preds was the worst the Hawks have played this season. While I was happy to see the return of Kris Versteeg, the less said about this game, the better.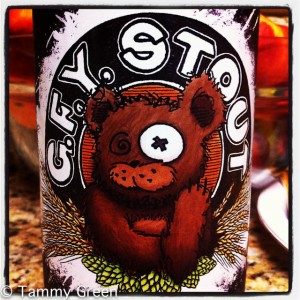 Game 21 vs. Sharks, 5-1W
Another Russian Imperial Stout, this time G.F.Y. from Spiteful Brewing in Chicago. Things started well with a pleasing toasted, chocolate aroma. However, I thought it tasted like unsweetened Hershey's syrup on the back end. The smooth mouthfeel and body of the beer made it work. I'm starting to doubt this style is "me".
The game, however, was awesome. Patrick Sharp makes the most handsome goals in all the NHL, even when they're penalty shots. I was pleased with how the team bounced back for this game, and have a theory that they only play their best hockey when confronted with real competition. We'll see how that theory holds out during the annual circus trip that starts Tuesday. Cheers!
*Michael Frolik is the quintessential happy human. I'm sad he doesn't play for us this year.
**Baderbrau was provided courtesy of the company.