I'm pairing a different craft beer with each Blackhawks game in the hopes of expanding my horizons as I root my team on to a repeat of last season. I call it my "quest for a cup". I'll post recaps here depending on how the games are spaced, but I'll also keep the list up-to-date on Pinterest, if you pin. Have suggestions? Please share!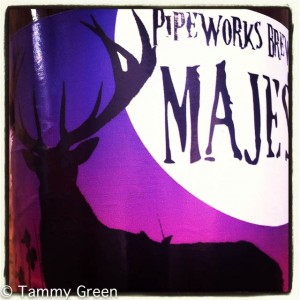 Game 22 vs. Avalanche, 1-5 L
I kicked off the annual circus road trip with Majestic from local brewers, Pipeworks. This English Style Summer Ale was awash with fresh citrus notes, especially lemon. Some nice carbonation and mouth feel balanced its lightly bitter pull. Lemon and citrus flavors were repeated, but after an initial brightness, faded. I didn't find it a particularly memorable beer.
I also wish I could forget this game. I don't know if it was the pressures of the road, Bickell's injury, or the lack of Hossa's ferocious play, but this one sucked hard. We simply got blown out by the Av's.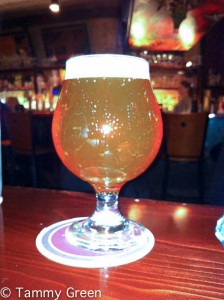 Game 23 vs. Jets, 6-3 W
Solemn Oath's Kidnapped by Vikings is definitely worth seeking out. The clean, evergreen and citrus flavors balance a strong IPA with bitter hops at the front, the middle, and the end. There's a little too much bite to drink this very often, but it was the break from porters and wheat beers that I needed.
Hossa was back for the blow-out victory over the Jets and some hard play. It was great to see him back on the ice, though all the top liners scored and/or racked up assists over three frames. The Jets came ready to play, but the only ones I worried about were the former Blackhawks on the team including Ladd, Big Buff, and Frolik.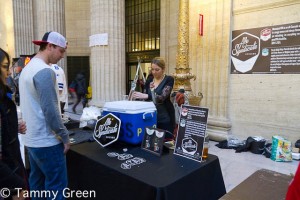 Game 24 vs. Canucks, 2-1 W
I still had Ale Syndicate's Municipal IPA in my system after the Bacon Sports Beer event earlier that day, and didn't feel like seeking out another beer for the game. With its combination of fruity Cascade hops, resin notes, and heavy carbonation, it hit all my must-haves for a perfect pull. The only down side is Ale Syndicate's beers are only available on-tap. I'm keeping an eye out for more from this Logan Square brewery and will jump on this brew if it's ever packaged.
BTW, wasn't it good to see the Canucks defeated on their home ice? Any time the Sedin twins mirror each other's sadness is an excellent day in my book. Luongo provided some excellent goal tending during this match-up else it would've been a bigger rout than it was. I look forward to a repeat in December.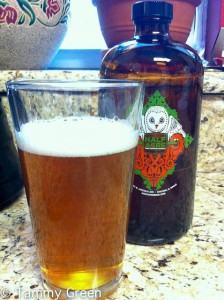 Game 25 vs. Oilers, 5-1 W
I popped in for a growler of Heyoka before I learned it's now available in cans. Half Acre's first packaged IPA is around for a limited time, and I highly recommend picking some up. If you're looking for a point of comparison, this IPA has less evergreen aroma and resin flavors than the Wodan they had on tap about a month ago. It's a little smoother and more accessible. Go for it.
Unlike our last game against the Oilers, this time we steam rolled them. The scoring started early with a short-handed goal from the Captain. Kane, Oduya, and everyone's favorite bruiser, Shaw, added to the tally. Twice!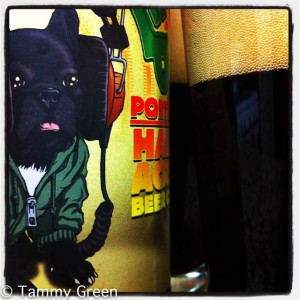 Game 26 vs. Flames, 3-2 W
I didn't intend to do back-to-back Half Acre beers. It's just that when it came time to select one for the game, I didn't feel like leaving the apartment just to keep breweries spaced apart. Fortunately, I had Chub Step cooling in the fridge.
Look at the head on that beer! This robust porter started with heavy coffee aromas and toasted malt that delivered a mellow blend of coffee and chocolate flavors with a bit of hops at the end. Overall, the mouth feel was medium bodied and enjoyable. Perfect for a cold winter's night. I liked this one even more than the Heyoka.
I have no idea why Calgary gives us such fits, but it took the third period to get their goalie, Berra, solved. Patrick Kane continued his twelve game scoring streak with two more goals, including a blind back-handed shot that won the game in the last 18 seconds. I'm glad I stayed up to watch. Unbelievable.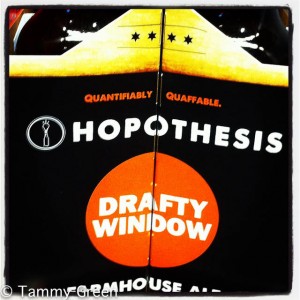 Game 27 vs. Stars, 2-1 W
I paired Drafty Window from Hopothesis with Thanksgiving leftovers, a warm blanket, and the promise of pumpkin pie if the boys won. This saison was a mellow, slightly too-sweet companion for dinner. I wouldn't seek this brew out for a special occasion, but it was fine for a post-holiday plate on the couch.
Speaking of which, I had to wait there all freaking night for my pie. Three periods, overtime and 11 shoot-out attempts were needed for Corey Crawford to earn his 100th career NHL win. I eventually ate a slice in his honor, though the whipped cream was all for Sharpie. *ahem* He did score during the game, plus kept us in it his shoot-out attempt.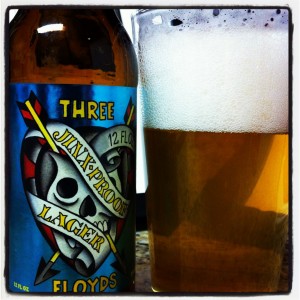 Game 28 vs. Coyotes, 5-2 W
This weekend I discovered that In Fine Spirits will mix-and-match six packs. Though other places do this, the selection here doesn't suck. Plus they give discounts for frequent buyers. Score.
I picked up a variety, including 3 Floyds Jinx-Proof Lager, which I hadn't tried before. It's crisp, clean and utterly forgettable. I love so many beers from these guys, but I wouldn't have placed this as a 3 Floyds brew in a blind tasting. It wasn't bad, but I'm glad I only got one bottle.
With goals from all four lines and a back-up goalie who doesn't suck, the Blackhawks have obviously figured some things out. They delivered six wins in a row on the road and sit atop the league with 42 points. WTG, guys. I'm a happy human!
Have a great local brew to recommend for the next game? Leave a comment!