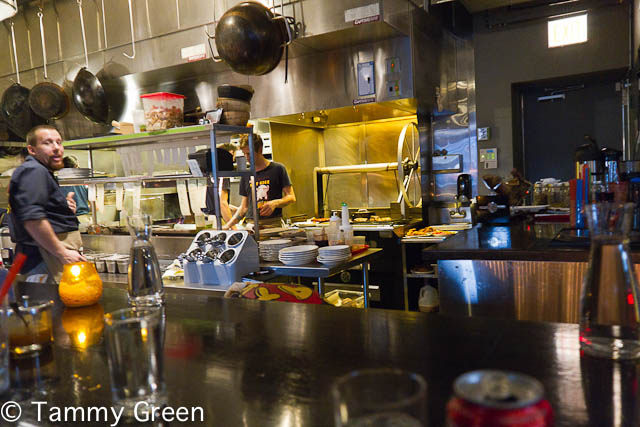 Buzzed.
There's been a lot of fuss over Fat Rice — mentions of it keep dancing across my screen and people I meet gush endlessly about their third, fourth, fifth trips to this trendy Logan Square spot. I prefer to let the "dust settle" on any place that's been that hyped because a) I'm contrary and b) it's seldom proven to be true. I could have waited another six months to visit this restaurant, but an adventurous out-of-town foodie friend wanted to have dinner and neither of us wanted to revisit the culinary past. So we forged ahead…
I wasn't concerned about getting into Fat Rice, despite the chatter about wait times, because I'm usually hungry about the same as time senior citizens and my friend was hungry on East Coast time. Going on a Thursday helped, too. We got there at opening and secured a spot with the great view of the kitchen. Easy-peasy. It was comfortable even with the high seating, and they had under-the-counter hooks for our urban baggage.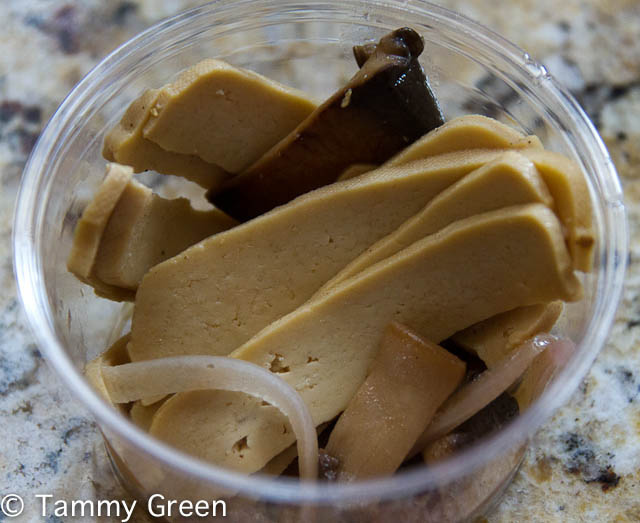 Pickled.
I knew to get the signature dish, the Arroz Gordo. If you name the restaurant after it, it had better live up to the name, right? Since it takes 25 minutes to prepare and cook, we also got a selection of pickles, 3 for $10. The Lemongrass Carrots were amazing and quickly disappeared, but I wish I had passed on the leathery texture of the Tofu with mushrooms. I liked the Szechuan Turnip pickles better the second day than I did at dinner — maybe they didn't pair well with my beer selection. I'll call it a 50% success.
We caught up while waiting for the main course, time zipped by, and Fat Rice filled up by time it arrived. And this dish was a monster. Served in an over-filled kettle, layered with seafood, meat and rice, the Arroz Gordo seemed to mock me for having eaten any time in the previous week. I knew I'd be hauling home left-overs.
Stuffed.
We scooped out the easily identified clams and prawns, and nibbled those down before speculating on what the darker shapes of beast could be. I wished I had read the menu more closely and/or had a flashlight because apparently I need to identify meat before I can bite into it. There's not a lot of light in Fat Rice.
Next-day leftovers were a more enjoyable experience because I worked down to the rice layer with its melange of olives, grapes, peppers and meaty chunks. Overall it's a solid dish, meant for rugged he-men types who need the extra calories to chop wood, lasso varmits, and express their inner Paul Bunyan. The Arroz Gordo sat in my gut for days.
There was no room for dessert that night. It's unclear to me how they expect people to get that far.
The food at Fat Rice is different enough that they'll be able to penetrate the buzz of the Chicago food scene for a while yet. However, I'm more apt to listen to my gut and spend my dining dollars where there's less hype and lighter fare. Maybe I'll go again in six months…or continue forging ahead.
Fat Rice
2957 W Diversey
Chicago, IL 60647