This hockey season, I'm pairing a different craft beer with each Blackhawks game in the hopes that I expand my horizons as I root my team on to a repeat of last season..call it my "quest for a cup". I'll post a quick recap of the each brew in quasi-weekly round-ups, depending on how the games are spaced.
On to the first five…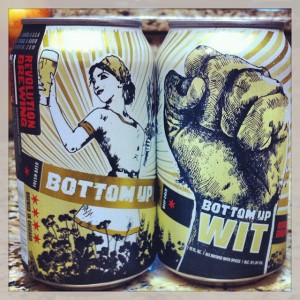 Game 1 vs. Capitals
I opened the season by cracking open Revolution Brewing's Bottom Up Wit. I wouldn't normally go for a Belgian-style ale, but I needed a compromise beer to share with non-IPA fans for the game. Turns out it was no compromise. I enjoyed the carbonation and light mouthfeel of this beer, as well as the notes of citrus and banana bread. I would pick up a six pack for future games.
Also enjoyed banner raising ceremony and the win in the season opener, 6-4 over the Capitals. A great start!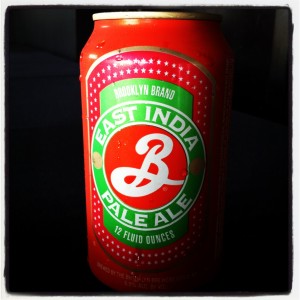 Game 2 vs. Lightning
I confess that my next selection was more a matter of convenience than choice. They were serving Brooklyn Beer at the Vendy's, and it seemed like a good idea to keep things rolling from that event to the game. I picked up a few East India Pale Ale's to watch the Hawks against the Lightning.
This IPA has a nice citrus nose that follows into an earthy, orange and grapefruit flavor. There's a nice balance between carbonation and maltiness, but I didn't enjoy the fade into a dry, too-bitter finish — much like the Hawks 3-2 loss in overtime.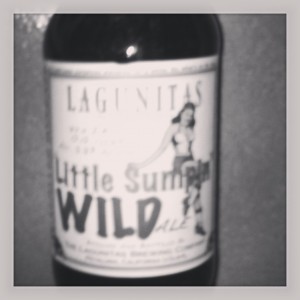 Game 3 vs. Blues
I tried a sample of Lagunitas Little Sumpin' Wild at the Cultivate Festival back in September, and I wanted a full pour to see if it was as good as I remembered. It was.
Big. Hoppy. And with more complexity than the non-wild version that I usually find. This version is a seasonal beer, so I don't expect to find my new favorite Lagunitas again any time soon. It's just as well. I'll need to change things up when we play the Blues this week. Blackhawks dropped this game, 2-3.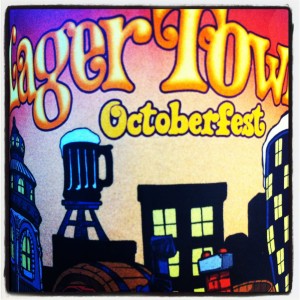 Game 4 vs. Islanders
I had a little time before the start of the Islanders-Blackhawks match-up, so I popped into Bottles and Cans. This may be my new favorite place to shop for beer. Not only do they have an impressive craft beer selection, they have a mix and match wall to build your own six-pack. And the choices aren't filler! Awesome. I picked up a few selections including Half Acre's Lager Town Octoberfest.
It's a solid lager, with a bready, rich malt flavor that finishes smooth. It's not as amazing as other offerings from Half Acre, but I finished the game with it — much like the Hawks finished with a 3-2 victory.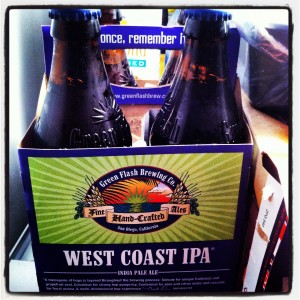 Game 5 vs. Sabres
I wandered into Foremost Liquors for my fifth choice — if you haven't been to this shop on Kedzie, make some time. Not only do they have an excellent selection from local breweries, they carry a well-rounded inventory of craft beers from around the country. They will also hunt down requests. I don't know if other shops in this chain are run the same way, but these guys are awesome.
I had it in the back of my head that this West Coast IPA from Green Flash Brewery was pretty mellow for the style. I could not have been more wrong. It is an 11, off the charts, robust IPA that rocked me back with its piney, citrus notes and hoppy bitterness. I will need to be in a special mood to finish off this four pack.
The Hawks finished off the Sabres 2-1, though the ending of that game was also more hair-raising than it needed to be.
Want more? Follow along the Pinterest Quest for the Cup as I pour through these games. Suggestions are welcome, too!