This hockey season, I'm pairing a different craft beer with each Blackhawks game in the hopes of expanding my horizons as I root my team on to a repeat of last season…I call it my "quest for a cup". I'll post a quick recap of the each brew in quasi-weekly round-ups, depending on how the games are spaced. I'll also keep the list up-to-date on Pinterest if you want to follow there.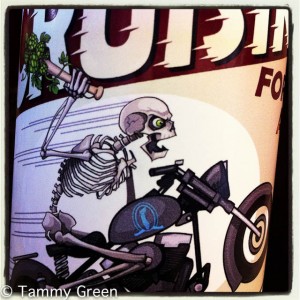 Game 6 vs. Hurricanes
I admit that I'm a sucker for a great label, and Lake Effect Brewing Company's Cruisin' for a Brewsin' hit all the right notes for me: a moto-ridin', hop-clubbin', skeleton with a powerful thirst. I had to have it.
Unfortunately for my hop-addiction, the bottle turned out to be more bad-ass than the brew. I enjoyed the spicy aroma. I just didn't find myself, ya know, challenged by this mellow Belgian Style IPA. Unlike the Blackhawks, who had more of a battle putting the Hurricanes down 3-2 than was necessary. They seemed to purposefully make things harder for themselves.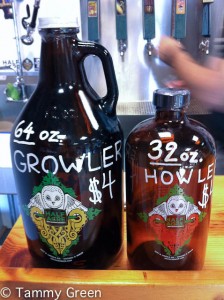 Game 7 vs. Blues
I popped into Half Acre's taproom for inspiration for the big game against the St. Louis Blues to discover they had just added Wodan IPA to the line-up. The fresh, green cedar notes of a car freshner suggested a bitter bite, but this brew went down smoothly with a pleasant hoppiness and carbonation. I'm not sure how long this one-off brew will stick around so hurry if you want to try it.
I walked away with a Howler (half a Growler) of Wodan IPA and will try to go back for more (unless something else captures my attention). Unfortunately, the Blues walked away with a 3 to 2 shoot-out victory over the Hawks.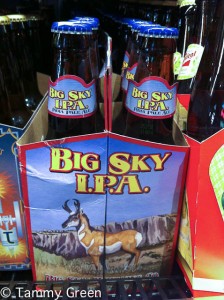 Game 8 vs. Maple Leafs
I have been a fan of Big Sky Brewery ever since an epic trip I took to Montana a few years back. I still remember the clinking of Moose Drool bottles from the back seat as we crossed the continental divide. These days you can find the full range of brews in Chicago in liquor stores and even on restaurant menus. I picked up this six-pack of Big Sky IPA from Gene's Sausage Shop — which has turned out to a great selection to seasonal and craft brews.
Big Sky IPA has a characteristic hoppy aroma with a malty, mellow structure, nice carbonation and mouthfeel. This is a pleasure to drink, especially when accompanied by a Blackhawks 3-1 ass-whooping over the Maple Leafs.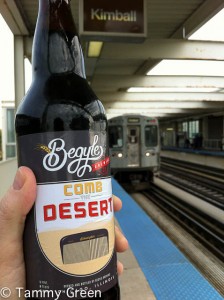 Game 9 vs. Panthers
First game of the Mother's Trip, where the players' mothers accompanied them to Florida, the Blackhawks won a shoot-out victory 3-2 over Tampa. I personally won with a bottle of Begyle Brewing's collaboration beer, Comb the Desert. Begyle partnered with Chef Cletus Friedman, to create a German Black Lager with a full-bodied, smooth drinking beer. It was toasty, almost chocolate-y like an Imperial stout, without the cloying sweetness I find in the later. Absolutely delicious.
I immediately went back for more and had to "comb" Lincoln Square to find another bottle. If you're lucky enough to find Comb the Desert, pick up any extra for me and I will pay you back. Seriously.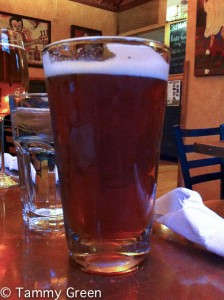 Game 10 vs. Lightning
I decided to embrace the spirit of Halloween and start an exploration of fall-themed brews. This lead me to a convenient, if uninspired choice of Shock Top Pumpkin Wheat. I got hints of nutmeg and cinnamon aromas and I suppose cloves, but nothing I would definitively call pumpkin. It had a nice head and bubbliness, but felt like any number of generic pours from years past and was imminently forgettable.
Not unlike the performance of the Blackhawks, who dropped this game to the Lightning 6-5 after the Lightning sent it into overtime by scoring on themselves. I feel that the team needs a third period performance enhancement — if that comes in the form of strong drink, I'm all for it.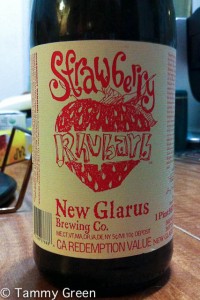 Game 11 vs. Wild
Chicago Bites collaborator and fellow Blackhawks fan, Pattie, generously donated a bottle of Strawberry Rhubarb from New Glarus Brewing to share with me. She had picked it up on a recent trip over the border to Wisconsin, and I think that's where you need to go if you want to try it since I've never seen it on shelves in Chicago.
This beer wallops you over the head with strawberry aromas — for all the world, it reminded me of the scents wafting in the air after making strawberry jam. Though the strawberry flavor was prominent throughout, the sourness of rhubarb hit me on back end. Lightly carbonated with a nice, crisp taste that started to get cloying as it warmed up. It's not a beer I would normally seek out, but of the fruit-flavored beers I've tried, it's not bad.
The less said about the Blackhawks 5-3 loss to the Wild, the better. Dust yourselves off, boys, and get back to proper form to face off again!
Have a game-winning beer suggestion? Let me know!