One of our occasional, non-food related posts. Thanks for the indulgence -Ed.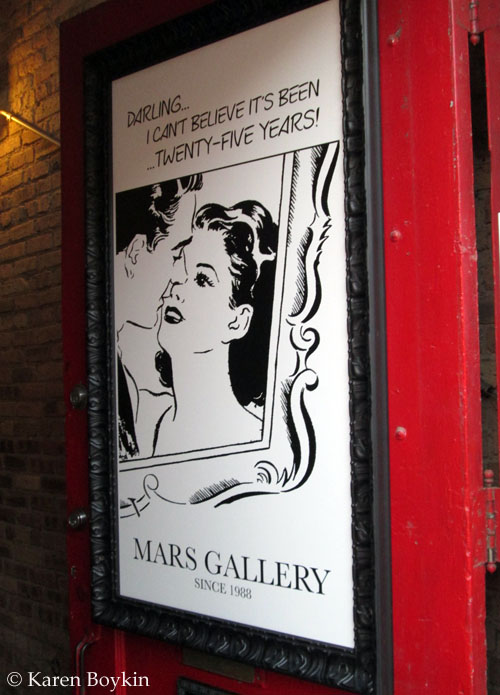 In 1988, there was no such thing as the "West Loop," with its pricey condos and trendy restaurants. It was still the hardscrabble meat-packing district when Barbara Gazdik and Peter Mars decided to open their artistic outpost in the 110 year old timber loft warehouse. Cab drivers questioned whether you really wanted to be let out in those darkened streets, freshly washed down from the day's work.
Fast-forward 25 years to Mars Gallery's silver anniversary and not much has changed except the real estate says Gazdik, "That's just the outside. We still have a lot of the same customers, a lot of the same artists. It's amazing how many people have been coming the whole time."
From the featured artwork to the party guests, there is the feeling of meeting old friends amid the steady hum of conversation punctuated by laughter and underscored by some killer beats. The quirky is still very much a part of the life-blood of the place. Even the "Carmen's Beauty Shop" sign pointing the way to the freight elevator bar is still there.
It's not all about nostalgia though. Mars Gallery manages to attract fresh eyes and new collectors while staying true to its core mission to support non-traditional art and artists. Gazdik says, "We collected outsider art which is why we concentrated in it. The outsider market has gotten kind of broad and the Internet has changed things, but people are still collecting. The pop and naive art we feature reflects our urban, socially diverse clients – that person who is, perhaps, a bit of a rebel who wants something different. They buy pieces that speak to them; pieces that make them say, 'I love that. It makes me happy.'"
Mars Gallery
1139 W. Fulton Market St.
Chicago, IL 60607
(312) 226 7808