I popped into Revolution Brewpub (2323 N. Milwaukee Ave) over the weekend to grab a bite to eat and explore the beer menu a little bit. Brewpubs seem to be my new summer activity, so brace yourself for a little less fine dining and a few more pints. Especially if the heat decides to catch up with the season.
The scene: This space is a crazy crowded, raucous sprawl that spills onto the street. You don't really mind because there's occasionally room at the bar and a waiting area where the only concern is not spilling the drinks. They'll even serve food if you don't mind juggling a plate and a glass while you "wait" for a table.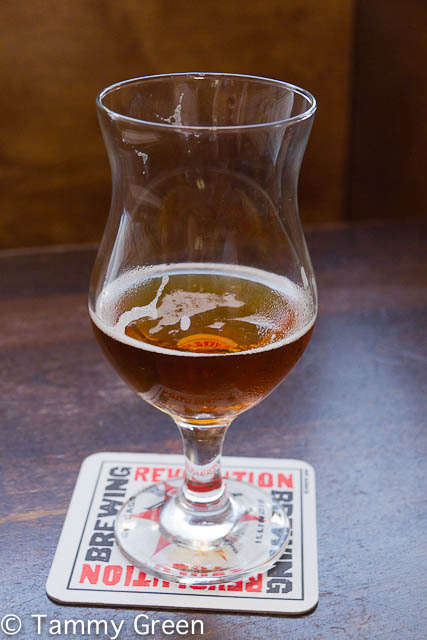 On tap: I tried the District North Line Lager, a limited time brew with characteristics of both a lager and an IPA — a smooth mouthfeel with a hoppy kick. The boyfriend quaffed Cross of Gold, a smooth, nicely carbonated blond ale with a hoppy aroma. We were both happy and satisfied with our choice of beverage. I almost switched my second glass to Provocateur, because c'mon the name, but it had a sweet muddy maltiness that I didn't want to ruin my happy hop vibe.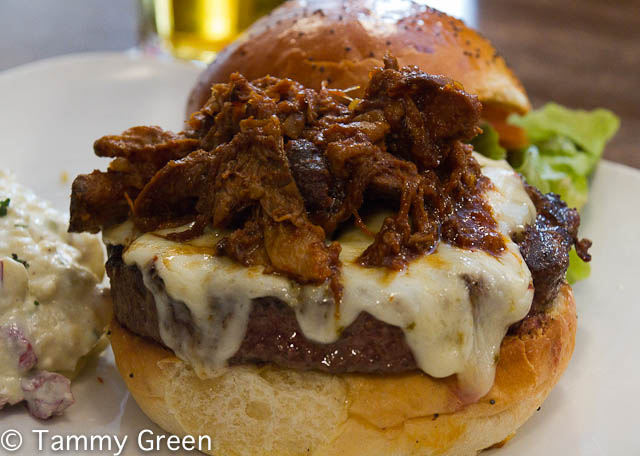 On the plate: Though we came in time for brunch, we opted for the lunch menu to better pair with the beers. Given how awesome the plates of Red Flannel Hash and Cherry Porter Pancakes looked, I'm not sure we made the right choice.
The Smokehouse Burger was a good foil for the District North Line Lager, the hops cut through the surprising heat. This sandwich came piled with pork and pepper jack cheese with a blue cheese potato salad on the side that was perhaps a better idea in theory than practice.
The Iron Fist Fish and Chips were well prepared but decidedly bland except for the jalapeño slaw that lurked in a little cup like the nightmare of condiments. Perhaps the slaw was designed to sell more beer. Beer was the better bet, anyway.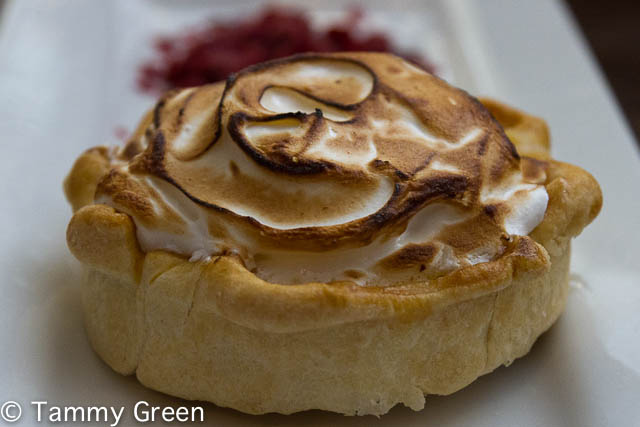 On dessert: Dear Revolution, there is a difference between a slice of lemon meringue pie, what we ordered, and a lemon tart, what we were served, and it is this: crust to filling ratio. It was a great tart and the masticated blueberries helped balance things out a bit, but I shall remain haunted by the unrealized sliver that should have been. Fortunately, Bang! Bang! Pie Shop (2051 N California Ave) was within an easy distance for a proper fix.
There's no reason to leave Revolution Brewpub if you're hungry, but I wouldn't make a special trip for the food. For the beer? Yes, definitely. There's much more I'd like to try and it's a great space to get your drink on. Here's hoping for a long, hot summer!
Revolution BrewPub
2323 N. Milwaukee Ave.
Chicago, IL 60647