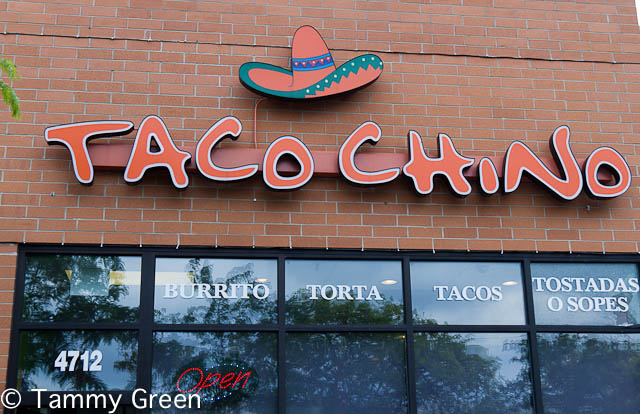 I walk past Taco Chino frequently and have never once been tempted to cross the street, enter the strip mall and darken the door of this chain-esque shoppe nestled between a laundry mat and a liquor store. It has zero curb appeal. It wasn't until a friend mentioned "Korean Tacos" that I perked up. Even then, it didn't register that this was the spot until she walked me to the parking lot.
I'm surprised by how much I liked its cafeteria-clean charm and the crooked kitsch hanging on the walls. The menu? Look for a blend of Korean-seasoned Mexican classics with a bit of American fast-food influence thrown in for good measure. The idea of Taco Chino is really expressed in an order of Kimchi Fries — a combination of Orida-cut potatoes, a coating of real cheese product and the hot tang of kimchi. Next time I need to soak up a bad evening, I am stopping for an order of these. I suggest you do the same.
The Korean touches continue with Kimchi Tacos — a combo of tenderly seasoned pork bits, fresh cilantro, onions and the bite of kimchi served on an El Milagro'd soft corn taco. It was worth every bit of the $2.25 I paid for it. We also ordered the Bulgoki Taco with beef marinated in a homemade sauce that wasn't quite what either of us know of bulgoki. Not bad, and again worth the coin.
Just to add to a leaden belly, we also tried the guacamole and chips. I've paid a lot more for a lot worse at sit-down Mexican restaurants. Don't go out of your way just for the guac, but order it if you're in the mood.
I will go back to try more tortas. Their vegetarian version was served on a well toasted bun and filled with a hearty combination of sauteed peppers, beans, cheese, lettuce and tomato. Vegetarian sandwiches are seldom satisfying, but this was quite good.
Thanks, Taco Chino! I will dive in again soon.
Taco Chino
4712 N. Kimball Ave.
Chicago, IL 60625