I'm trying to participate in Chicago Craft Beer Week, but you know how it is with life. I have to give some professional time to the NRA Show this week and while I'm all for shining a spotlight on different breweries, it feels like too much trouble to track them down on a schedule. Instead, I'm celebrating the "spirit" of these fine BEvERages by hoisting a few new-to-me local brews and visiting favorite pubs.
I live within easy distance of Half Acre Brewery (4257 N Lincoln Ave.), so I popped into their tap room to see what they had to lure me away from my steady favorite, Daisy Cutter.
I was on the hunt for a hoppy beer, and nearly came home with a Howler of Akari-Shogun, a light wheat beer with a rich infusion of hops and cool appeal to inner manga geek. However, one glass of Stargazer, a light, hoppy lager with a clean finish and amber glow turned me around. This is a refreshing beer that I could drink as a session brew or pair well with spicy ethnic food. I had visions of Stargazer as my new Summer favorite, except…
Stargazer isn't listed on Half Acre's list of seasonal or collaboration beers. I have no idea how long this will last at the tap room, and the staff was firm about it not showing up in bottles. Too bad. I guess I'll hoist my little howler too and fro while I can, and keep an eye open for a beer to bring to summer parties and to have on hand. If I'm really lucky, maybe I'll score a six-pack of 3 Floyd's Zombie Dust*.
I'm very happy I found both beers, and will make more effort to visit the tap room again soon. So far Craft Beer Week has been a success! Have you found a new favorite during Chicago Craft Beer Week? Lemme know!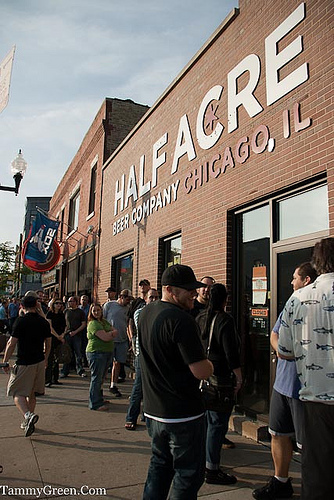 *I had erroneously referred to this delicious concoction as White Zombie. Thanks to @bitfrojm for the catch. Many eyes make for great edits!