One of the fun things about Restaurant Week is trying new places. Embeya was on my list, but I probably wouldn't have gotten to it as soon as I did if it weren't on the list.
Wow. So good.
Embeya is a beautiful restaurant. Lattice work and temple bell light fixtures accent a very posh, modern space. It got a little loud as it filled up, but that's the only complaint I had. Service was great.
Things were cold and sleeting the night I went, so I started things off with some Lemongrass Tea. I don't know where they get their blend, but I must find out because this went down so well.
My friend and I perused the R.W. menu, but truthfully the regular menu of authentic Japanese comfort food looked more intriguing. We skipped the R.W. choices and went straight for the Tofu. Though they make their silken tofu, the firmer tofu in the appetizer isn't made in-house. It was still an amazing vehicle for the sweet pepper and Szechuan peppercorn sauce. The bit of roasted chestnuts were a nutty counterpoint, and taken together, it was a perfect bite of heaven.
The dishes are served family style. I'm not really sure what that means in terms of the serving size because the entrees weren't appreciably larger than what I'd expect in any other Asian restaurant. The Noodles we ordered were delicious with a meaty mushroom sauce dotted with Chinese celery and bay scallops. I have been craving this dish ever since.
The Sazuki, a light fleshed Japanese sea bass, was served atop a banana leaf and swimming in a delicate ginger sauce. It was addicting, too. I kept dishing the sauce onto the side order of short-grained fried rice. We rounded out the meal with a side order of bok choy that wasn't too spicy despite the sprinkle of candied jalapeno.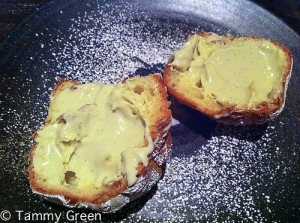 Japanese desserts tend to be light, and to my American palette, rather bland. Found that to be true, here, too. We ordered the tapioca topped with toasted almonds, dates and dried logan. In theory it should have been enough sweet, but the flavor didn't penetrate the tapioca. The creme puff top was filled with a delicious matcha (green tea) cream filling surrounded by a bland profiterole. It was a bit of a let down after the rest of the meal.
Would I go back? Yes! I may skip the desserts, but I'm eager to try the rest of the menu.
Embeya
564 W Randolph Street
(312) 612-5640