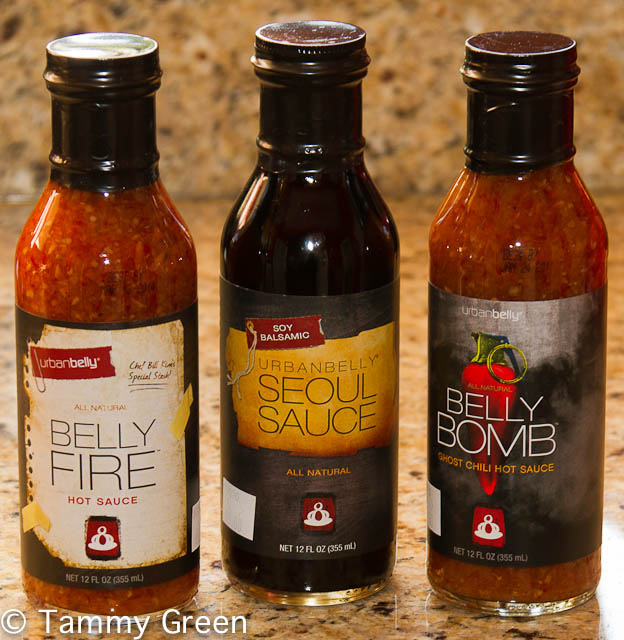 I was browsing in City Provisions before the holidays, shopping for nothing in particular and hoping for a little dining inspiration when I came across this trio of sauces. I love heat, Bill Kim, and all things spicy, so when I tell you my day was made at this find, I hope you believe me.
I bought all three — Belly Bomb ($7), Belly Fire ($5), and Seoul Sauce ($5), and gleefully lugged them home to concoct a hot and spicy feast.
Since I've left Belly Shack with sweating eyeballs before, I decided a little taste test was in order. Caution in the kitchen? It's a new year, I can try. I started with Seoul Sauce, which is a soy balsamic, with the thought that it would add some needed saltiness to a neutral omelet. Honestly? It was too sweet for me. I think I'll end up using it in homemade salad dressings instead of a replacement for the Kikkoman on my stir-fry.
I took the image a grenade on the jar of Belly Bomb seriously and dished a tiny spoonful despite my aforementioned love of spicy. Untwisting the cap was like releasing a demon horde…I could feel the wave of heat in advance of the spoon. Oh so good, but I need those ghost chilies layered in a dish instead of waiting on the surface to ambush my tongue. I have since put this in a lentil soup recipe and it's aces. I will eat the whole bottle, but it will take me a little longer than I anticipated.
My favorite of three is Belly Fire. It has a nice, vinegary bite that builds into a sensational heat that yes, makes my eyeballs sweat and my cheeks turn the same color as my hair. I don't care. I put it on everything now, and will need to restock soon.
I haven't verified it, but I assume you can pick up Bill Kim's sauces at his restaurants (Urban Belly, Belly Q, or Belly Shack), but I know you can get all three at City Provisions (1818 W Wilson Ave).
There are rumors of more sauces in the works. I can't wait!
UPDATE: City Provisions closed as of 1/28. Words cannot express how bummed I am. Best of luck to Cleetus & company on the next adventure!