Despite the drought conditions, there was a lowland boil in Logan Square this week. Shrimp, clams, crabs and more were on the menu for Tuesday Night Dinner (TND), a Lakeview-based supper club. The group provides a low-cost, family-style culinary adventure for its members every third Tuesday at a new location. This week, Bang Bang Pie Shop (2051 N. California Avenue) played host to the outdoor picnic in their newly opened backyard.
TND works because it combines an eclectic mix of people that enjoy food in a setting that allows them to mix and mingle. Unlike the set-ups at restaurant meet-ups, there's freedom to move, and in fact you're expected to meet as many people as possible. Samples of home-brewed beers and a share-and-share alike mentality with BYOB items helps, too.
The food matched the setting and the price-point this evening. There was a large amount of food, and no one walked away hungry. However, the quality left something to be desired — little things like under-cooked shrimp and tiny crabs, and more noticeable and regrettable moves like swapping out strawberry shortcake for fruit pies, had more than a few people irritated. No pie at Bang Bang? Tsk, tsk.
TND may be a victim of its own success. There was a waiting list for the lowland boil, and this gathering was considerably larger than previous events according to TND veterans. The lines looked daunting, though they did move fairly quickly. Managing the space, costs and the experience probably factors into TND's decision to look for a permanent space.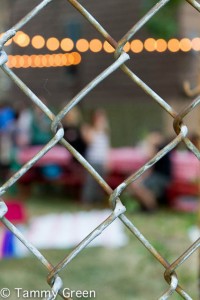 If you're looking for a social dining experience, Tuesday Night Dinner provides an affordable gateway to a larger community of farmers, chefs, locations and enthusiasts. Plus, it's a great excuse to dine out on a Tuesday night.
Interested? Drop an email to tuesdaynightdinner3036@gmail.com for upcoming events and registrations.
I was invited to dine as a guest of Tuesday Night Dinner.