Welcome to Joong Boo Market

Black Tiger Shrimp

Bean Sprouts

Stuffed Animals

Honey Powder

Radishes

Cafe

Fish Roe

Live Cram

My haul from the market
Grocery stores are adventures, and one of my favorites is Joong Boo Market on Kimball. It's a place to find seafood (squid! black tiger shrimp! live crams!), grab a quick meal from the snack shop, or even browse the dry goods market for rice cookers, stuffed animals or knick-knacks. The snack food aisles at Asian grocery stores are such a relief to browse through after the undifferentiated potato chip-nacho-pretzel experience in most American grocery stores. Shrimp-flavored rice chips? Load me up. Taro cream wafers? Sure, I'll give a try. I made it out of there with all the ingredients for an awesome stir-fry and enough desserts to send me into sugar-shock!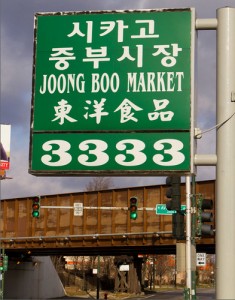 Joong Boo Market is tucked under the highway and a little off the beaten path, but well worth adding into your neighborhood grocery rotation.
Joong Boo Market
3333 North Kimball Avenue
Chicago, IL 60618