Fine dining in Lincoln Square? Yes! Chef Chris Nugent and his wife Nina opened Goosefoot a few weeks ago along a beaten-down little stretch of Lawrence Avenue. It's easy to ignore the restaurant from the street, particularly when places like Nhu Lan Bakery and Restaurant Sarajevo are barking for attention, but when I stepped inside I found myself in Nugent's sleek, modern world.
Despite the couple's attention to accessibility — an easy walk from the Rockwell Brown Line stop for commuters, ample parking for drivers — and intention to open a neighborhood spot, Goosefoot is a chef-driven vision. My other neighborhood spots don't have Rodin statues on display or soft, classic light fixtures. The interior reflects the couple's tastes, but it's also a perfect backdrop meant to draw your focus to the food.
I don't like to gush about new places, particularly when they first open, but Goosefoot is a rule-breaker. Course after course, I kept waiting for a dish to fade into the background, but everything I ate during the eight-course meal was outstanding. I'm already plotting my return.
Nugent set the stage for the meal with an amuse bouche of melon and microgreens, followed by a hearty course of curried lobster with spring peas and root vegetables. I'd been conditioned by other tasting menus at other restaurants to expect tiny bites, but Nugent gives you more than enough of each course to be satisfied. I mention this because the smokey chestnut soup with a foamy truffle cloud floating atop didn't seem to end. Or maybe I didn't want it to end — the soup was hauntingly good.
A crispy loup de mer with a delicate meyer lemon sauce was followed by a roasted quail plated between an apple salad and spiced lentils that balanced the meat perfectly. Unexpected touches like a mound of "compressed apple" took the dishes to another level.
I felt myself getting full at the half-way point, but rallied for the course of angus beef served with three different preparations of carrots. The perfectly cooked meat would have been enough, but Nugent clearly has a vision for each dish and my greed for his food slowed down to appreciate the plating and care that went into the construction of his menu.
An alpine cheese, pleasant ridge reserve, came plated with a truffle-dusted rice cake, and finished off the savory dishes. I know the chef is working with local farmers to provision his restaurant, but clearly we're not shopping in the same markets. Nothing I buy locally even comes close. All this by way of saying, please Chef, tell me where to get more of this cheese.
Dessert started with something called cinderella pumpkin. I don't have the terms to describe what was going on with this dish, so bear with me. The pumpkin roll sat atop a sweet, creamy sauce that transformed in texture when you added the freeze-dried nougatine — a sort of fairy-godmother-by-way-of-sauce bite. Like every other dish, I wondered how to discretely lick my plate clean in the tiny restaurant. It's the only detail I'd add to the story.
The final dessert was a whipped chocolate petite four topped with chocolate-coated sea beans next to an orange foam. Know those chocolate oranges you smack apart at Christmas? This was way better.
Every restaurant as a few hiccups on opening, but the only weakness here is lack of polish at the front of the house. There was no hostess or any serving staff when we arrived for our seating, which only changed after some strenuous throat-clearing and fiddling of outerwear. Minor detail, that. The serving staff ranged from excellent to hackneyed. I'm sure they'll whittle down their weak players after a few more weeks — honestly it won't matter to most people, but will be the difference in the number of Michelin stars this restaurant could receive. After one meal, I honestly think Chef Nugent and his staff are on course for at least one, if not more.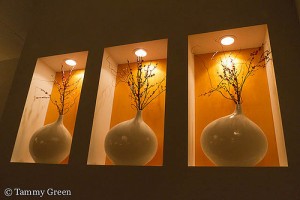 It won't be any hardship for me to come back when their twelve course menu debuts, and when seasonal changes dictate changes on the menu. I'll be delighted to travel along any menu that Chef Nugent sets in my path.
8 course tasting menu is $90. Goosefoot is a B.Y.O.B.
Goosefoot
2656 W Lawrence Ave
Chicago, IL 60625