I'm on a quest to eat every menu item at Opart Thai House. If you're interested, you can catch up from the beginning of this adventure or continue on to the latest installment: jerky and sweet.
I'm not a huge meat eater, but I do like a lean, tender cut from time to time. The Opart Beef (#18, $6.99) appetizer is billed on the menu as a "tender beef marinated in Thai spices," but the deep frying makes it tough and chewy, like jerky. It made me sad. As always, I like Opart's dipping sauces. This one had a peppery, vinegary tang that was a good counterpoint to the beef. If they treated the meat with a lighter hand, this would be a good start to the meal.
The Seafood Combo (#59, $7.99) is an inoffensive mixture of seafood and rice. It's the sort of thing I like after I've been sick for a while — not too flavorful, but enough protein to fill me up. The seafood isn't overdone, which I sometimes find in risottos or seafood stir-fries. I wish Opart would forget to buy "crab stick" and leave it out of all their recipes. It's unnecessary and adds a sweet note that soy sauce can't always kill.
I finished this meal off with Fried Banana (#112, $3.50). I expected it to be overdone like a fruity eggroll, but this dessert surprised me. It's essentially a chunky banana pudding in a light, crispy wrap. Makes me wish their dessert menu was more extensive!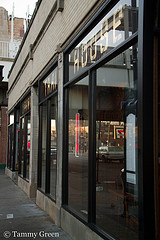 This brings my Eat-The-Menu Quest up to 51 out of 119 available dishes. I have a series of take-out choices coming up, so stay tuned.
Opart Thai House
4658 North Western Avenue
Chicago, IL 60625-2043
(773) 989-8517