Though it's been a while since I've written an entry on this restaurant, I'm still eating my way through every menu choice at Opart Thai House on Western. Why? Opart is a Michelin Bib Gourmand winner two years running, they have a diverse and interesting menu, and I really wanted to do a deep dive into all of the offerings at a single restaurant over a period of time. It will take me about two years to finish my quest.
If you're interested, you can catch up from the beginning of the eat-the-menu entries or read this post for my inaugural 2012 entry.
Started this large meal with an order of Fresh Spring Rolls (#6, $3.99) from the appetizer menu. I'm normally a fan of spring rolls, but didn't care for the cake-y texture of the wrapper on these. As a delivery system for tofu and bean sprouts, it was strange and off-putting. Also, the jalapeno peppers seemed like an unnecessary afterthought on the way to dressing up the plate. It wasn't their best effort and not my favorite appetizer.
I was better satisfied with the Yum Plamuk (#37, $7.99), a delightful mix of charboiled squid — perfectly scored into little curls, carrots, onions, greens and cucumbers swimming in a hot and sour dressing. For a salad, it was actually a little soupier than I care for, but that didn't stop me from eating it up. The squid were oh so tender and the dressing burned so good. If you're in the "I hate squid" camp, it's probably because you didn't start with dishes like this.
Opart has two whole red snapper dishes on the menu, and I finally broke down and ordered one of them. The Pla Dang Rard Prik (#101, approx $24), came with its skin caramelized from the sweet and sour sauce. An assortment of carrots, onions and bell peppers were cooked in the same sauce and ladled generously on top. One of the best parts of whole fish, for me, is the delicate cheek meat from the fish head, but this red snapper had been cooked too long for that cut. Other than that slight disappointment, it was well worth picking the bones of this monster clean — simply delicious. I can't wait to order the other version, done in a spicy curry sauce.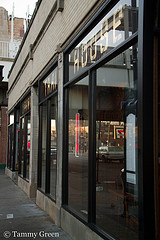 Opart Thai House
4658 North Western Avenue
Chicago, IL 60625-2043
(773) 989-8517
This brings the eat-the-menu quest up to 48 out of 120 dishes. More to come!