I'm on a quest to eat everything on the menu at Opart Thai House. Over a year and fifty-six dishes later, I'm nearing the half-way mark of this culinary journey through one restaurant's repertoire. You can catch up on things from the beginning or continue reading the latest installment: adventures in take-out.
I ordered Pad Kra Praow (#82, $7.99) with tofu, even though shrimp, chicken and beef were alternative proteins. I don't think it was the right choice for such a peppery dish because it didn't do anything to tame the heat. Basil, which is the other main ingredient, didn't offer enough counterpoint to make the burn go away either or to offer other interest. It hurt to eat this dish. I'm still uncertain whether I liked the pain.
My next trip back, I ordered a starter of Fried Shrimp Spring Rolls (#12, $5.99). These fingerling-sized rolls were lightly crispy in a way that didn't destroy the seafood inside. I vastly prefer these flaky concoctions to egg rolls. They came with a sweet dipping sauce that could have used a bit of pepper.
The Pad Kra Lard Khao (#61, $6.99) was a great combination of basil, hot peppers and protein over rice. I was still a little shaky after my last entree, and ordered this one medium-spicy and with shrimp. I think I would order it again with more heat. The rice makes a difference.
Most of the salads are very meat-heavy, and the Yum Neau (#33, $6.99) was loaded with thinly sliced beef and just a smattering of green onions, red onions, and cucumbers. The beef was very tender, though, and the hot and sour dressing was the right complement to that much cow.
I actually preferred the salad to the sweet-ish Stir-Fried Fish (#109, $8.59) overloaded with sweet red and green bell peppers. I don't know what the objection is to having a savory fish stir-fry, but I can't seem to find satisfaction. Hot or sweet, or hot and sweet seem to be the only choices. At least this dish was sole instead of catfish, which I'm losing enthusiasm for.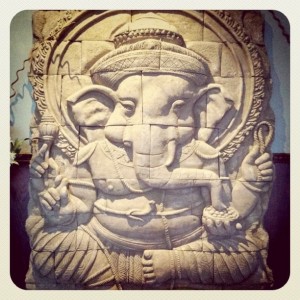 This brings my Eat-The-Menu Quest up to 56 out of 119 available dishes. I have more in a series of take-out choices coming up, so check back!
Opart Thai House
4658 North Western Avenue
Chicago, IL 60625-2043
(773) 989-8517