Happy Lunar New Year! The calendar shifts from the Year of the Rabbit to the Year of the Dragon, and brings a fresh view on dining options in Chinatown. It's not hard to fill up on good food in this neighborhood. Though there are many great places to eat, but one of the restaurants I find myself returning to is Chi Cafe.
The food here is good, cheap and served fast. Plus, it's available from breakfast to the wee hours of the morning. The mod decor and cafeteria seating wouldn't seem to lead itself to celebrations, but the place is always busy when I go. Maybe don't take your parents if you want to impress, but definitely go with a group of friends.
The House Specials are a great place to start with the menu and I've enjoyed most of the vegetable dishes, too. From stir-fries to comfort food like scrambled eggs with yellow chives and shrimp, you'll find the food to be fresh and interesting. I admit I'm still too squeamish to enjoy a dish of fish stomach or pig blood (though I tried!), but they are on the menu for the more daring diners.
Morning, noon and night, go to Chi Cafe to enjoy an authentic taste of China and feed your inner dragon.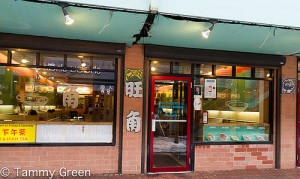 Chi Cafe
2160-A S. Archer Avenue
Chicago IL 60616
312-842-9993
Sunday to Thursday 8am – 2am
Friday & Saturday 8am – 5am