When people talk about dim sum in Chicago, the conversation usually centers around The Phoenix Restaurant (2131 S Archer Ave). It's large, the food is good and cheap, and it's a great place to keep a table of 15-20 people happily stuffed. However, it's not the only dim sum game in Chinatown. For the same price point, I find I prefer MingHin Cuisine, just off of Chinatown Square.
As a picky American who likes to take some time to decide about a dish, I like the fully photographed, clearly priced menu. Though it may be less authentic than the dim sum carts, it's a less pressured way to ease into dim sum. The ambiance and decor of MingHin is also preferable to the Phoenix. The back-lit panels on the ceiling and wooden lattices depicting nature are dramatic and interesting. Most importantly, the tables are nicely spaced while still accommodating larger groups.
The food at MingHin is solid comfort food and I feel I got my money's worth. I would order their Chinese Broccoli in oyster sauce again in a heartbeat. It was bright green and crunchy with just enough salty-sweet sauce to flavor the vegetables without drowning it. The Siu Mai were also satisfying and hefty with enough flavor to give it character but not set it above other dishes. The only misstep were the vegetable crepes that came in gelatinous rice flour wraps that quickly congealed — it was a disaster. We ordered a mango pudding for dessert that had a great mango flavor, but was pretty far removed from a pudding in execution. I ate it, but with a quizzical look on my face.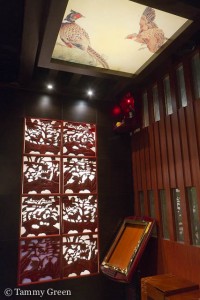 The service here was also solid. Food came out quickly, and my questions about the dishes and quantities needed were answered well enough given the cultural/language divide. I am intrigued by early morning dim sum — this restaurant stays open until 2 a.m. I'm not sure I could get a group together for pork dumplings and fish balls in the dead of night, but it's nice to know there's an option in Chicago.
Expect to pay about $15 per person.
MingHin Cuisine
2168 South Archer Avenue
Chicago, IL 60616