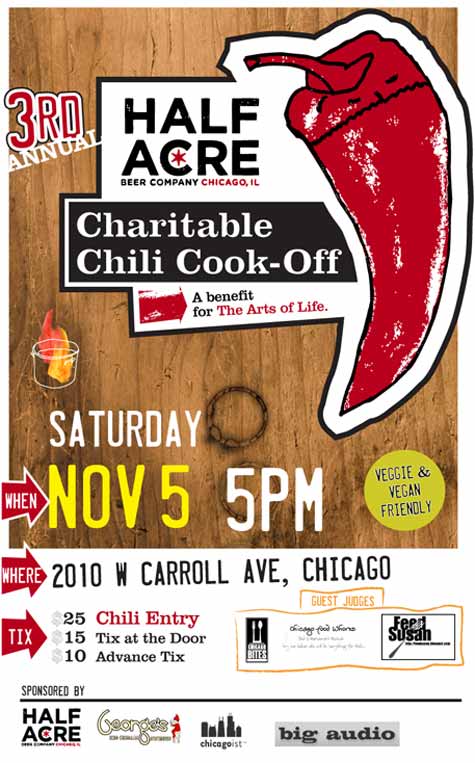 The 3rd Annual Arts of Life Chili Cook-Off is this weekend and I'm judging! I expect to try hot, spicy, bold chili, and toss back a can or two of Daisy Cutter from Half-Acre. But what's really going down well is that this event benefits Arts of Life and the work they do in the Chicago community. Even if you're not a chili fan, I hope you can stop by to support the organization.
More about the event: "The Arts of Life, a Chicagoland non-profit arts studio for adults with and without disabilities, will once again showcase the area's best and tastiest chili at their 3rd annual Half Acre Charitable Chili Cook-Off on November 5, 2011 starting at 5PM. Like the two last successful years, the cook-off will be at 2010 W Caroll Ave and this year, attendants should expect even more fun and yum! 20 entrants from around the Chicagoland area will provide a variety of chilis including vegetarian and vegan friendly entries. Guests can also partake in fresh brewed Half Acre Beer, a cool down from George's Ice Cream and Sweets, and rock out with The Arts of Life Band at 7pm! Lindsay Heath, who attended the 2nd Chili Cook-Off, says, "great chili everywhere you look, great cause, good times. come early cause the good stuff goes fast"." Please help us celebrate at the 3rd Half Acre Chili Cook-Off!"
Hope to see you there!