I've been steadily eating away the menu at Opart Thai House, but no longer have to try 120 items. Nope! They don't serve Delux Thai Iced Coffee (#118, $2.50) anymore, so I'm taking it off the list! It's a small step towards progress, but I'll take any help I can get.
I love the Hot & Spicy section of the menu, it's turning into my favorite. The only quibble I have is that when I order tofu for my protein, they cut it too big sometimes and the middle of the strips are a little flavorless. The Pad Ped Tuah (#85, $6.99) was all heat on the outside and bland tofu in the middle. The excess of green beans and Thai chili was awesome though. It hurt so good.
I went to dinner a few weeks later with a friend, and we started off with an appetizer of Fresh Spring Rolls (#6, $3.99). The spring roll skin was doughy and dry, and would have worked better with rice paper. Otherwise, these were pretty standard rolls with the requisite amount of crunchy vegetables and sweet dipping sauce. The jalapenos seemed superfluous.
The better bet was the Yum Plamuk (#37, $7.99) — a mix of charbroiled squid mixed with salad vegetables and tossed with a hot and sour dressing. The squid were tender and succulent, and contrasted nicely with vegetables. I would certainly order this again, and wish we'd started with this.
The centerpiece of dinner was the Pla Dang Rard Prik (#101, $22), a whole grilled red snapper that we shared for an entree. Don't let the sharp, pointy teeth fool you — this was one tasty the fish. The hot, sweet and sour sauce became caramelized as it cooked and sealed in the moisture. The generous serving of vegetables was another vehicle for the delicious sauce, and was almost as good as the fish. Based on this, I really can't wait to try the other whole fish dish.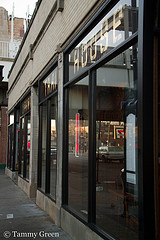 Opart Thai House
4658 North Western Avenue
Chicago, IL 60625-2043
(773) 989-8517
This brings the Eat The Menu Quest up to 48/119 dishes. Next week? A lot of delicious take-out.