It's been a while since I've put together an entry about Opart Thai House, but I'm still on a quest to eat every menu item at this restaurant. If you're interested, you can catch up from the beginning or continue on to the latest installment: coupons de cuisine.
It took me a while to use up my online coupons for Opart because I kept forgetting I had them. This is a restaurant that I obviously patronize a lot, so it's irritating that I nearly let them expire. Plus, it's hard to spend $35 at a Thai restaurant — even between two people who are determined to sample. Guess this means no more restaurant coupons for me. It's probably for the best.
We started with the Shrimp Toast (#14, $6.59) appetizer. I'm fond of crostini, but this had been under the broiler too long. The shrimp had an evaporated, ashy kind of texture to it that when paired with the overly crisp bread, was a disappointing start to dinner.
Fortunately, the Moo Ping (#4, $6.59) was much better. I don't normally go for platters of skewered pork, but these were seared and succulent without any charred flavoring. The garlicky, sweet dipping sauce was a perfect counterpoint to the savory meat. If you're going to order this as an appetizer, come with a big appetite. It's big enough for an entree.
My friend ordered Rama Delight (#78, $7.99) with chicken as her main course, which suited me just fine. I'm not a huge fan of chicken, broccoli or peanut sauce, and I don't have many kind things to say about this dish on a good day. One bite and I was done. Her opinion of it was much better than mine — nutty, sweet and piled high. We had to agree to disagree.
I was much happier with my Hot & Spicy Seafood Combo (#107, $8.59). It's a nice mix of shrimp, squid and peppers in a slightly sweet sauce that had a nice kick. The only thing I didn't care for in the dish was the crab stick. I'll just ask them to leave it out in the future. They are really good about customizing dishes when you ask.
We included a couple of orders of Thai Iced Coffee (#119, $2) with dinner, but it wasn't to our taste. The coffee was too bitter and too sweet at the same time. I've had this drink before, but I don't remember hating it this much. Ah well, live and learn.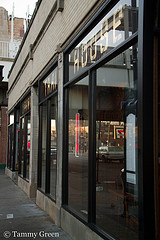 Opart Thai House
4658 North Western Avenue
Chicago, IL 60625-2043
(773) 989-8517
This brings the Eat The Menu Quest up to 44/120 dishes. Next week, I'll get into my adventures with whole fish and other tasty items!