The Downtown Farmstand is closed. Enjoy this blast from the past.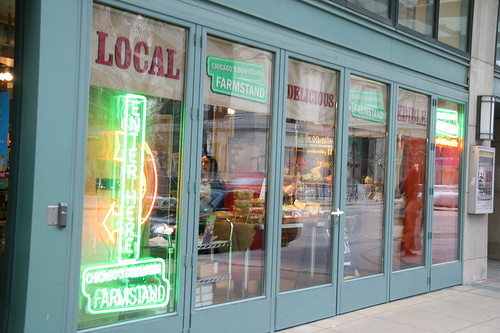 If you want to sample the best Chicago agriculture, you could drop by one of the many farmer's markets that run May through October. A better choice, particularly if you're short on time and limited by transportation, is to visit Chicago's Downtown Farmstand (66 East Randolph).
What's amazing about the Downtown Farmstand is the variety of produce and culinary items you can find. Pick up jams and jellies by Rare Bird Preserves, try honey from beehives kept atop downtown buildings courtesy of the Chicago Honey Co-Op, or sample locally made crackers from Nonna Santi's Biscotti. Everything sold here is grown or made within a 250 mile radius of Chicago, IL.
If you have a free evening, try to attend one of the scheduled culinary conversations. Judith Dunbar Hines, the city's Director of Culinary Arts & Events, facilitates panels of local farmers, producers and restauranteurs on topics as diverse as how to start your own honey production to how women entrepreneurs get started in culinary businesses. Tonight's topic will explore how local farmers and vendors give back to the community. First Slice, Sweet Miss Givings, Soup and Bread, and Co-op Image are all scheduled to discuss the balance their companies seek between for-profit enterprise and involvement in local outreach. The talk starts at 6pm.
The Downtown Farmstand is open six days a week, Monday – Friday; 11 am – 7 pm and Saturday, 11 am – 4 pm. Culinary Conversations are free, but reservations are required. Call (312) 742-8497 to nab a spot and start talking directly with the people shaping Chicago's culinary scene.