I'm going to offer an odd bit of culinary advice: any time the California Fig Advisory Board emails you with a dinner invite, accept. I confess I dithered about my invitation at first — the Girl & the Goat is a good restaurant, but did I really want to splash out into the July humidity to eat figs? Turns out, yes I did.
Figs are at their peak right now, and the staff at Girl and the Goat whipped up a six course fig-featured meal with wine pairings and all the extras. I was expecting a few fig dishes and few words from Chef on how wonderful figs were to work with, not the feast that took over two hours to roll out.
Things kicked off with two different house-made breads and a savory, tangy fig spread to go on top. I was expecting a bite of sweetness, which would have paired well with still hot-from-the-oven pretzel bread, but was disappointed. I was much happier with the goat carpaccio, drizzled with a fig-vinaigrette and topped with capers and roe, and absolutely delighted with the Lemelson Pinot Noir that was paired with it.
During dinner, the Fig People shared all kinds of information about the types of figs, growing season and even water rights issues in California, but the best advertisement for figs was the showcase of dishes that the G&tG staff continued to roll out. Plus, they kept plying us with really good wine during the meal, which didn't harm anyone's chances of creating a pro-fig environment.
The Kohlrabi Salad that came next was a mix of slightly bitter greens, slices of fresh figs and bland cheese that was topped with just the right amount of ginger-y maple dressing. A forkful took me through an entire range of tastes and textures. I sincerely hope they put this on the menu rotation at G&tG because I need to have more.
Figs add a sweet and smokey dimension to savory dishes and we were able to see this in both the escargot stuffed figs and the seared scallop dishes. Each were surprisingly meaty dishes, the figs added interest while balancing out the salty elements. The same was true of the cheese course that paired a smokey blue cheese against a smear of fig paste. My favorite dish of the evening was the last — pork fat donuts with caramelized figs and candied eggplant. Fried dough with sweet figs was obvious, but the genius of candied eggplant pushed things over the top for me. I absolutely loved it.
I don't go to Girl & the Goat often because I find the restaurant to be incredibly loud. This meal didn't change my opinion (we had our figs in a "secret" downstairs room), but renewed my interest in the evolving menu at the restaurant. I definitely need to check for fig dishes here and other restaurants. In fact, a Twitter friend just told me about a new dessert at The Gage, so clearly there's more fig research to be done in Chicago. If you have a line on a great fig-based dish, let me know!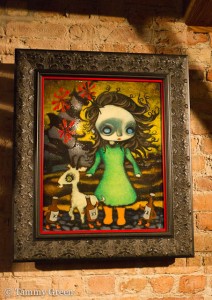 Girl & the Goat
809 W Randolph St
Chicago, IL 60607
(312) 492-6262
Thanks to the California Fig Advisory Board for picking up the bill for this awesome meal & sending me home loaded with fresh and dried figs. Figs, FTW!