Sadly, as of August 10, 2011, I can say Veerasway is no more. Glad I got to try it before it disappeared.
Veerasway is a casual, chic Indian restaurant along the Randolph Street corridor that's received a lot of kudos, including a Michelin Bib Gourmand. It's been on my list for a while, so when a British friend who'd been craving good Indian food wanted to try it I couldn't say no.
There was plenty of space in the dining room the evening I dropped by to meet her, but we elected to eat outdoors. Their patio is nothing fancy, but that part of Randolph is fairly quiet so it's a good choice in the right weather. Our first order of business was reconciling all the Twitter recommendations with what two women with moderate appetites could handle. It's not easy because there are a lot of temptations on the menu, including Bollywood Lollipops, a whole Tandori section, and some intriguing seafood curry choices.
We decided to start with glasses of Lassi, a refreshing combination of iced coconut milk and mango. It's a filling drink, but we figured it would help cool down our palates, particularly since the first item up were chile-spiked samosas. I'm a huge fan of samosas and these were perfect. Lightly fried, stuffed with potatos and peas, and served with a side of tangy chutney? Heaven.
We followed that up with orders of papadum and Alwain Naan, since we couldn't decide between the flatbreads, and the chutney trio. I was a fan of the naan, chewy and sprinkled with generous amounts of cilantro and pepper. My friend liked the light cracker-texture of the papadum, comparing it favorably with what she remembered from London. The chutney was a bit of an oversell though, since we had some left-over from the samosas and one of them turned out to be the same yogurt we ordered to go with our entrees. In terms of service and recommendations, it was the only misstep all night.
We split our main dishes, and agreed that both were excellent. The Spring Mutter Paneer was a savory sauce of tomato, spiced with fennel and topped with pea sprouts. I loved the flavor of it, but wished there were more cheese and peas to round out the soupy paneer. The Lamb Vindaloo was a study in heat, almost too fire-y to eat and I confess to mixing in a little paneer to cut down the spice. I want to work up to eating it straight because it hurt so good going down.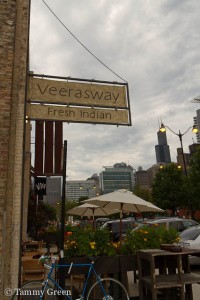 There was no room for dessert, so I'll have to either skip the Basmati rice or some of the flatbreads in order to make it to that part of the menu. I love both, so that's going to be hard.
The only thing we didn't love was the bill. At about $40 each, it's much steeper than our usual Indian haunts on Devon street — though comparable to other downtown restaurants. I'll probably seek out Veerasway again when I need my fix because it's convenient, charming and oh so good.
Veerasway
844 West Randolph Street
Chicago, IL 60607
(312) 491-0844