I had plans this week to take a dedicated, meat-eating friend out to dinner, but was thwarted when my intended restaurant was closed for the day. Urban Vegan wasn't my back-up restaurant, but it was on the way and we found it just as the July sun was about to turn us both into soppy puddles. They were open for business and ready to rock the vegan food.
This place looks like a tiny, hole-in-the-wall spot with its tacky mirrors on the wall, mix of Asian touches, and faux wood paneling. Urban Vegan isn't a good choice if you want to impress someone with your knowledge of glamorous see-and-be-seen restaurants. But you know what? I got kudos for suggesting we eat here. The food overcomes its surroundings, and I can't say that's true of some of the fancier places I've tried recently.
We began with an order of steam curry dumplings that came in a spicy green curry sauce. Not only was this dish beautifully garnished with fresh vegetables, it was absolutely delicious — a perfect balance between the heat of the curry and the savory cilantro and salsa. I wasn't even half-way through it before I wanted to order it again.
The menu is largely Thai with a smattering of sandwich offerings for people who want their vegetable protein in pseudo-meat form. I'm not usually impressed with places that try to simulate a meat experience because I don't personally miss meat on a menu. Either you have it or you don't is how I feel. But the waitress practically insisted that we choose a substitute when ordering, so I went all-in with an order of "Orange Chicken".
So good! It could have easily been a one-note, overly sweet interpretation of orange chicken, but it wasn't. The chicken-substitute was savory and had a nice, crispy texture and satisfying mouth-feel throughout. The orange sauce had a whole orange that had been segmented and chopped, and then stir-fried. I shared a bite or two with my dinner companion and asked him if he could tell the difference between this and his usual chicken order. He said he kinda could, but actually preferred this.
The other entrée we shared was an order of ginger stir-fry with "chicken". A combination of mushrooms, fresh ginger, garlic, green onion, red and green bell peppers in a "special sauce" that was complemented by a generous amount of basil and hot peppers. Again, the dish could have been all heat, but it had a nice complexity and a slow burn.
Both entrées were served with a heap of brown rice, and filled us up nicely for about $15 per person.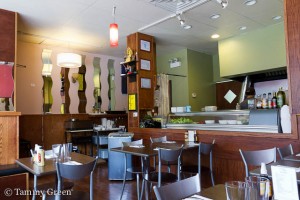 This past week, I've told all my vegan/vegetarian friends about this spot, but I think it will satisfy most people's choice for quick, Asian comfort food. If you're near the Brown Line Montrose stop, I think you should give Urban Vegan a try!
Urban Vegan
1605 W Montrose Ave
Chicago, IL 60613
(773) 404-1109