Seems that lately I've done nothing but seek out cold, sugary concoctions in an attempt to fight off this hot, soupy July. My latest attempt was to grab an ice cream sandwich from Hilary's Cookies in Lincoln Square.
This amazing dessert is filled with the monster scoop of vanilla ice cream from Homer's Ice Cream that's sandwiched between two vegan cookies. One cookie has a layer of caramel to prevent the ice cream from soaking in and dissolving it into a gooey mess, and the other cookie is protected by a generous amount of peach compote. Both layers do their job while adding dimension and delight to each bite…assuming, of course, you can get your mouth around it. I had to eat each end towards the middle. YMMV.
The July heat may still win over my battle to stay cool, but oh what a way to fight! There are other flavors to try and a pound-sized ice cream cookie sandwich, aka the Mofo, to attempt. Hilary's Cookies? Expect me back soon!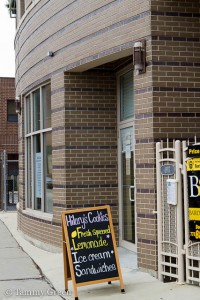 Hilary's Cookies
4917 North Lincoln Avenue
Chicago, IL 60625-2609
(773) 561-4840