You'd better have a big appetite when you come to Eleaven because everything from bagels to waffles to sandwiches are thick and hearty. All the baking is done in the building, and Eben Dorros, owner of Eleaven, believes in show-casing his love of bread. I had the chance to see just how much on a recent tour of his menu.
I didn't realize how weak my breakfast routine was until he served up a Flagel (a large, flat bagel) with everything on it slathered with cream cheese with everything in it. Even a quarter of this would be enough to satisfy a lumberjack. But no! There are even heartier items waiting for famished diners, namely the "breakfast sandwich". Served on a moist and flavorful pumpernickel, this towering mound of food is actually healthier than it seems. The delicious bread is topped with egg white, tomatoes, spinach, a nice aioli, and optional cheddar cheese. If I need to load up for a weekend of wood chopping, I'm stopping here first.
On the sweeter side of the menu you can find stellar pastries, including a pretty awesome cinnamon roll muffin interpretation. However, if you want to go sweet, make room for the Strawberry Stuffed Challah French Toast. Challah bread crusted with frosted flakes? And then stuffed with cream cheese and fresh strawberries? It simply does not get any better than that.
The Huevos Rancheros was the only bread-heavy item I didn't try off the breakfast menu, but that doesn't mean it's any less hearty or satisfying than anything else served here. The perfectly prepared eggs are centered on a crunchy tortilla that floats on a tangy base of black beans; fresh avocado, salsa and a dab of sour cream top things off. Like I said, if you're peckish, Eleaven is not the breakfast spot for you.
I dropped by a few weeks after my breakfast splurge for a tuna sandwich to go. I wasn't in a huge hurry and went at an off-peak time, but I had to wait a noticeably long while to get my food. The sandwich was overflowing with tuna salad, and big gobs of it dropped out with each bite. I prefer my tuna dryer and with more flavor than volume. The multi-grain bread it was served on was also a little blah.
I noticed the same slowness in service on my next visit, but was much happier with the grilled cheese sandwich on sourdough. A friend who came with me tried a BLT with goat cheese served on the same sourdough. Apparently goat cheese and bacon is made of win. I'll have to put that sandwich on my list of things to try.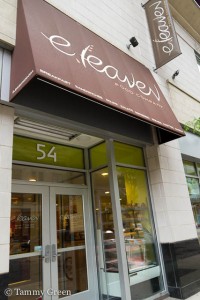 I'm happy to have Eleaven in that neighborhood. It's priced right for the area, though it's a little much to spend $10-$15 for breakfast/lunch there on a regular basis. However, tourists probably won't mind, bread fiends will rejoice, and office workers will find a nice change of pace from Potbellies. I know I'll be back.
Eleaven
54 East Ontario Street
Chicago, IL 60611-4755
(312) 202-0899
As a member of the media, I was treated to breakfast at Eleaven. Lunch was on my own.