Friend and occasional Chicago Bites contributor Pattie recently completed her 28 days challenge with the Engine 2 diet, so by way of congratulations I offered to buy her dinner. It was the least I could do for "making" her go vegan. While Roots Handmade Pizza wasn't a complete 180 from veganism, it had enough elements of "bad for you" that it counted.
We started with drinks and a couple of appetizers. A word about the BEvERages here — Roots serves local craft brews and the menu is organized by each Midwestern state. While there was a nice selection, we couldn't help but wonder why Iowa wasn't included as a Midwestern state. They do have a craft beer guild, festival, etc., so I'm not sure. I selected a Half Acre Over Ale, while Pattie drank an adult root beer cocktail. Her drink had the distilled essence of root beer but none of the sweetness. Pretty good. Later, we tried the house-made root beer for comparison. That root beer was neither a disgrace nor a revelation, and went down rather well in place of dessert.
When considering the appetizers, the cheesy monkey bread drew both of us in. The promise of garlicky bread with a layer of caramelized cheese was better in theory than practice. There was too little cheese and garlic. The nuggets were a light and airy, and didn't have the chewy crunch that I wanted. Pattie went a step further with the appetizers and ordered the pesto chicken lollipops. In my opinion, nothing that shade of green should be billed as a chicken product. The pesto was a nice alternative to those who don't like hot, spicy chicken wings, however, and Pattie enjoyed her departure from veganism by polishing off most of the order.
Our pizza selection was a bit more healthy than the rest of the meal. We were warned that the crust included malt and would be sweeter as a result, and that the pieces would be uneven from scissor-cutting the slices. Neither of us were opposed to sweeter, oddly shaped pizza, so we placed an order for roasted corn, roasted red peppers, house mozzarella and basil. The basil wasn't a menu choice, but they accommodated us nicely. And? Again, it wasn't a disappointment nor was it a revelation in pizza. I liked it, but will probably forget Roots unless I happen to be in that neighborhood.
Roots Handmade Pizza just opened. If you plan to head over, plan to forgive slow service and a few miscues. They'll sort that out soon enough, and with a nice lay-out and upscale sports bar vibe, Roots will probably do well in this location. Expect to pay around $30 per person if you do drinks-appetizers-pizza.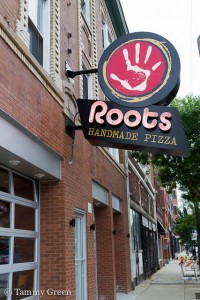 Roots Handmade Pizza
1924 W Chicago Ave
Chicago, IL 60622
(773) 645-4949