Yes! I'm still on a quest to eat every menu item at Opart Thai House. Please catch up from the beginning or continue on to the latest installment: more take-out, more!
Mee Krob (#8, $5.99) is described on the menu as sweet and sour fried crispy noodles with shrimp, topped with egg. Knowing that Opart Thai House's descriptions don't necessarily marry with what's served, I was still a little surprised by this appetizer. It's basically noodle candy. Oh, there are shrimp in there, but they're not represented significantly enough to warrant a mention. Neither is the egg. I took one or two bites of this chewy, overly sweet bird's nest and was done.
Unfortunately, only one or two bites of the Pad Poey Zian (#73, $6.99) was all I could manage of this entrée either. It's a melange of vegetables that are great until they're overdone and turn into a sour, bitter mess. I prefer a much lighter, crunchier treatment for cabbage, Chinese broccoli and peapods. Instead of rice, they were served over stir-fried bean threads that had been spun around the wok long enough to pick up a burnt, metallic tang. Skip this dish.
My next attempt was a few weeks later with the Shrimp with Lobster Sauce (#105, $8.59) — completely by accident. After rifling through my backpack, I realized I'd forgotten my marked-up take-out menu. I knew there was a gaping hole in the 100's so I made guess about what I hadn't tried yet. Since I'm hovering around 40 out of 120 dishes, the odds were still in my favor and I got lucky. I picked up an extra menu to take home and guess what? I had five stashed away. Sigh.
How was it? Honestly, this dish reminds me of a sweeter, fishier egg drop soup. There's plenty of shrimp and a pronounced lobster flavor, but the long, silky noodle strands running through this dish give it an unexpected texture. Order rice with this dish because it is runny.
The Gaeng Pa (#96, $7.99) is the least impressive curry that I've had at Opart Thai House. The Thai eggplant were cut into quarters and were in nice, crunchy balance with the green beans. Sadly, there were way too many bamboo shoots in this dish. I'm a fan of them in moderation, but not when the bulk makes up 75% of the volume. If the chef changed the balance to more green stuff and fewer bamboo shoots, I think I would have been much happier. The flavor of the curry was excellent, and affirms my belief that this is where Opart Thai House shines.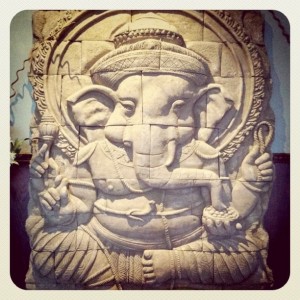 The next step in conquering the menu? Tackling a whole fish. If you'd like to help, please let me know. I have a few group-on knock-offs I need to use up.
Opart Thai House
4658 North Western Avenue
Chicago, IL 60625-2043
(773) 989-8517