Tourists and staycationers will now have better choices in snack food and beer selection when visiting Navy Pier. The recently opened Landshark Beer Garden has food prepared by Phil Stefani restaurants, including pot stickers, spinach and artichoke dip, double stacked cheeseburgers, and a buffalo chicken sandwich. They also plan to serve items from the soon-to-open Margaritaville restaurant. Cheese burgers in paradise pizza? If you're at Navy Pier for a vacation, then yes this is the food for you.
More interesting, are the Goose Island offerings available. When you're ready to move beyond 312, the beer garden will supply Matilda and Sofie. There are bigger, regional craft brews available as well, but don't expect to see Half Acre or 3 Floyds — they can't keep up with the volume required to satisfy the number of people that hit Navy Pier. Personally, I'm okay with making out-of-town visitors work a little harder for the good stuff.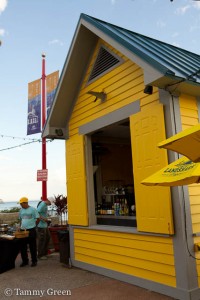 Landshark Beer Garden
Navy Pier 700 E. Grand
Chicago, IL 60611
Phone: (312) 595-5439
Hours of Operation:
Sunday – Thursday: 11:00 AM – 10:00 PM
Friday & Saturday: 11:00 AM – 12:00 AM
Holidays: 11:00 AM – 12:00 AM
Chicago Bites was invited as a member of the media to review the new offerings. All food and drinks were free.