I ducked into Flaco's Tacos on Saturday to escape the oppressive heat and crowds of people browsing for Printers Row Lit Fest. I was also a little bit hungry after a morning of considering weighty tomes of local literature and paperbacks of greatness. Festivals are hungry work.
Flaco's was hopping and there was a line at two in the afternoon, which was to be expected. Still, things moved surprisingly well. I ordered a burrito and fish taco, and was lured in by something called a Jamiaica — a sweetened hibiscus ice tea. That ice tea, boys and girls, was worth the trip. Maybe it was the heat that made me ooh and aah, but I don't think so. It was awesome on its own merits: not too sweet, not too diluted with ice, and with enough exotic tang to remind you that this wasn't Lipton.
I wish I'd paid more attention to portion sizes on my way up to the counter because I had no idea how much food a burrito + taco actually was until I hefted the bag. How workers here don't develop repetitive stress injuries from lugging around these weighty burritos is a mystery.
The burrito had much more than size working in its favor, though. It was stuffed with roasted poblano peppers, chihuahua cheese, cilantro and whole beans — not the refried afterthought many put into veggie burritos. Damned tasty, that burrito. I was sad I couldn't finish it because it deserved to be eaten in one sitting.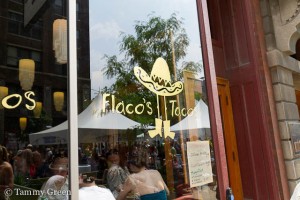 I was a little more ambivalent about the fish taco. The fish wasn't overcooked or anything, it just didn't have much seasoning. I doused it with the green stuff and a little bit of the red stuff, and it went down fine. Hate to do that to fish, but for $2.45 it wasn't a huge mistake.
Somehow I only ended up paying $10 and change for lunch. Another mystery since quick addition of their online menu puts this meal around $14. Regardless, it's a bargain. Flaco's Tacos? I'll be back.
Flaco's Tacos
725 South Dearborn Street
Chicago, IL 60605
(312) 922-8226