I seem to be eating my way through neighborhood sushi restaurants lately. Honestly? There are worse hobbies to have, especially if those places include spots like Blue Ocean.
Blue Ocean is tucked in the back of a little shopping center where you'd expect to find the dry cleaner's or maybe a much-neglected general store. That's pretty far from what you get, however. Open the doors, and you're treated to vivid walls, urchin-shaped lighting fixtures, and bamboo bisecting each table. It looks fun.
Blue Ocean has done a Groupon recently, and they make a point of not offering their daily specials to diners so there's no double-dipping. Perhaps smugly, I was able to take advantage of a buy one, get one free appetizer the evening I went.
I don't normally try cooked fish at a sushi place, but the waitress strongly recommended the hamachi kama. It was served seared with a side of perky salad with cilantro and jalapeno. Delicious. The seared salmon was also an excellent combination of spice, greens and lightly handled fish. Will I need to rethink my position on cooked food at sushi restaurants from now on? Yeah.
Blue Ocean has smaller portions of their signature maki, so I felt comfortable tacking a rainbow roll onto an order of blurashi. The former met expectations. However, the blurashi, a sort of chirashi, wasn't plated as nicely nor did it meet my expectations of a premiere selection of sashimi. It wasn't bad, but it suffered in comparison to the rest of the meal.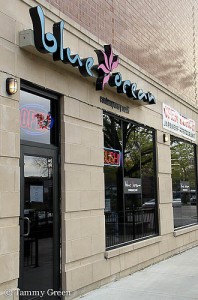 Overall, Blue Ocean is a solid neighborhood spot with vivid decor, good presentation of dishes, and knowledgeable and attentive staff. I'd recommend it if you happened to be nearby, but wouldn't suggest driving out of your way for a meal. Expect to pay $25-$30 per person.
Blue Ocean
4650 N Clark St
Chicago, IL 60640
(773) 334-6288