When you're a bona fide meat eater like myself, checking out what the different steak houses in Chicago have to offer is always exciting. So of course I jumped at a recent chance to try Benny's Chop House.
Located near the Jazz Record Mart and Trump Tower, Benny's is convenient to shopping and many businesses. It's also a popular dinner location. However, according to Director of Operations, Mitchell Schmieding, they are the "best kept business lunch secret" in Chicago. The event I attended was to help get the word out.
Benny's is the kind of place I like for business lunches; a short walk from the office, upscale, not too crowded, and with attentive waitstaff. They don't have a dress code, so those who have casual offices won't feel out of place in jeans and sneakers.  The dining room is intimate, and there's no dull roar of voices you get in other restaurants. Definitely no need to shout at your companions.
They have a private dining room that would be ideal for business parties and receptions. However, a pillar in the middle of the room makes it problematic for presentations. A better arrangement of the seating is in order.
For this event, Benny's created a special cocktail called "In Dew Thyme" made with Smalls gin, Moon Mountain organic vodka, Farigoule Provencal liquor, Pimms#1, cucumber, lemon juice and an ice cube of honey dew. On a cold and rainy day, it hinted at the promise of spring.
We were served a selection of menu items in bite sized tastings. I was surprised by the grilled romaine salad with roasted garlic-lemon vinaigrette and parmesiano-reggiano. I had never thought of grilling my lettuce — it added an extra special something that I find lacking in salad.
Although we were served small tastings of the appetizers, we were able to see full sized plates. These are large enough for a table of four to share. The steak tartare with waffle potato chips and violet mustard was fine though I preferred the warm buratta salad with roma tomato, roasted peppers and basil. The warm cheese and the vinaigrette was the right combination of flavors and textures — I wished I was given a full serving.
Executive Chef Jonathan Lane told us that the Alaskan halibut was flown in fresh that morning. It was the thickest cut of fish I've seen in a long time. The potato gnocchi that was served with it was an excellent touch. However, I was most impressed with the melted leek bread pudding that accompanied the chicken "under the brick". It was so light and fluffy, it reminded me of Thanksgiving stuffing. I could have eaten an entire plate of only that bread pudding and walked out happy.
Pastry Chef Aaron Lindgren brought us a platter of desserts. I usually gravitate toward the fruitier items, but when he described the "mud" part of the S'mores cheese cake, I dove into it. I actually blurted out, "Oh my God that is amazingly awesome," and I immediately forgot what it was made of. Some kind of chocolate-y goodness with graham cracker crumbs? There was also a very tasty banana cream pie and a key lime tart with a light and fresh flavor — an excellent finish to a meal.
You're wondering what about the steak, right? We were given a duo of USDA prime filet and USDA prime natural filet. They didn't tell us which was the natural filet, we were supposed to guess. And in the end, they never told us which one was which so none of us knew if we guessed correctly. Tasting them side by side, all I could tell was one seemed fattier and had more juices. Perhaps my palate is not well trained enough to notice the difference yet. Have I found an excuse to go to more steak houses or even return to Benny's to do more testing? I think so!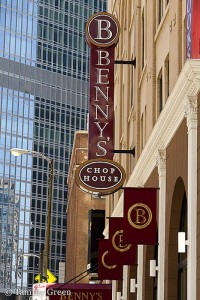 Benny's Chop House
444 N Wabash
Chicago, IL 60611
(312) 626-2444
Price:
Lunch: $12-$22 per person
Dinner: $30-$60 per person
The menu was reviewed as part of a media event. The meal was provided free of charge.