and
eat at Belly Shack. It was almost too much of a good thing. Perhaps the combined sensory overload caused me to mentally compare Bill Kim's spicy cuisine and Thor? All I know is that someone out there may be faced with a choice of whether to spend their afternoon eating out or sitting in the theater and I want to help.
Presentation
Belly Shack is tucked under the Western Blue Line station, and you can hear the rumble of trains periodically throughout the meal. It's not so loud that you can't have a conversation, but it's noticeable. You walk in and see the community table surrounded by two-tops, odd artwork and graffiti adorn the walls. Everything is dark and somber except for the blinding light of the walk-up counter. Gritty and urban is the vibe. It's edgy enough to wonder if anyone's been mugged on the way to the bathroom.
Thor, played by actor Chris Hemsworth, is ripped and beautiful. I'm guessing there's at least a 4-5 hour per day gym investment in that body with perhaps 15 minutes of vocal training. The obligatory shirtless scene is worth the price of admission, IMHO. Asgard, the home of Anthony Hopkins & a dude who looks like Brent Spiner's body double, is polished and beautiful as well. There's nary a homeless person or spec of trash to be seen amongst its gleaming perfection. However, I have a sneaking suspicion that the perfect view may get boring after a while.
Decision: Thor 1, Belly Shack 0
Flavor
Belly Shack made me burn, baby, burn in a good way. Everything I tried sent my taste buds zipping in new directions. The fries, which I thought would be a nice tide-me-over until the main course arrived, were astonishing — spicy enough to hurt, but too tasty not to finish. They were served with a side of mayo that was peppered with garlic and other elements of culinary crack. Luckily I ordered a carafe of yuzu-spiked lemonade that cut some of the heat with a delicious pucker of citrus. For my main dish, I had the soba salad — a combo of tortilla chips, noodles and tarted-up shrimp that brought heat and tang and crunch together in a happy triumph over my taste buds. Zing.
And Thor? The only flavor available at the box office this weekend was cotton candy. Sure, you could order popcorn and nachos and milk duds at the concession stand, but the movie itself was a bite of colored sugar. Light, fluffy, and done as soon as the ending credits rolled. Thor hit you hard with the first bite, but there was no follow-up punch.
Decision: Belly Shack 1, Thor 1
Repeatability
I don't feel I've even scratched the surface of Belly Shack's menu — it's not possible in one try. I was too full of fries and soba to even consider the huckleberry soft serve. But believe me, I've been thinking of nothing else since I spotted it on the menu. There's also a delicious sandwich menu to explore. Bill Kim changes things up periodically too, which is another reason to visit again and again.
Thor, on the other hand, delivered everything it was on the first viewing. There's no unexplained exposition or subtext or character development, so once you've taken in the sleek visuals, mightily-delivered dialog and Hulk-smash plot resolution, there's nothing left. It was good while it lasted.
Decision: Belly Shack 2, Thor 1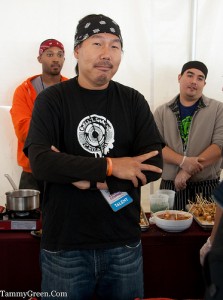 What should you do? Both? Sure, but if you only have the time for either dinner or a movie, go eat! It's an easy decision.

Belly Shack
1912 North Western Avenue
Chicago, IL 60647-4332
(773) 252-1414

Over the weekend, I had the chance to see the God of Thunder's latest film