Want a decent meal for less than $10 per person? Head over to Taqueria El Asadero in Lincoln Square to fill up. After a recent, horrible experience with tacos, I wasn't sure I was ready to continue on my quest for cheap Mexican food. But when @ezbake suggested we meet up for dinner, I scrounged up some change and headed over. I'm glad I did.
If you happen to be in a hurry, this is a great place for tacos, burritos, nachos or tortas. Orders are cooked, plated and served in less than five minutes — which also seems to be my threshold for waiting for to-go food. If I'm not getting cuisine, I am expecting speed, ie, fast food.
How does it all taste? The guacamole that we started with was heavy on the cilantro though a little bland. It improved when paired with the zippy salsa verde that came with the chips. The quesadilla was almost an afterthought of melted cheese between two tortillas, but everything else was better than I expected to get from a hole-in-the-wall neighborhood joint. Portion sizes are huge, in my opinion. Both the burritos and the nachos were large enough to split and get a complete meal. Good thing we invited more people to join us.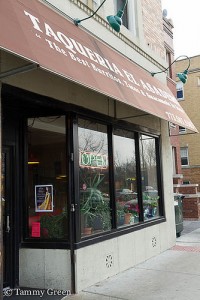 Let's be clear, Taqueria El Asadero isn't on the scene to elevate anyone's ideas of Mexican food. But if you have a couple of bucks in your pocket (they're cash only), you will walk away a satisfied customer. Sometimes that's all you want or need.
Have a favorite hole-in-the-wall place? I'd love to hear about it!
Taqueria El Asadero
2213 West Montrose Avenue
Chicago, IL 60618-1617
(773) 583-5563